RoMa: A combination of our old "signatures":

Ro-chan & Ma-chan.

(It's also Italian for Rome)
Anniversary:

04.26.04
5th

Year Anniversary
Destination:

Little Tokyo

(Our Old Stomping Ground)
Weather: Breezy

Hey guys! Welcome to another Anniversary Adventure Recap!


Our years of being together has made us quite calm in our adventures - we didn't travel as much as our previous Ann, but I still took more pictures!

Errol: This time of year, Maggie had prepared quite a beautiful outfit to wear~!
Maggie: Darling always likes me in brown, so this was one of my gifts to him~
Errol: ...basic in looks for now, but the entire outfit is what made it what it was! Sadly and gladly, I'm not showing you the rest of it! Because the rest of the outfit includes cute white shorts that look kinda' like a skirt + nice brown stockings ending with cute white shoes.

Sexy, in my opinion.
Maggie: my Darling deserves the best~
Errol: I'll gladly show you the shows, however: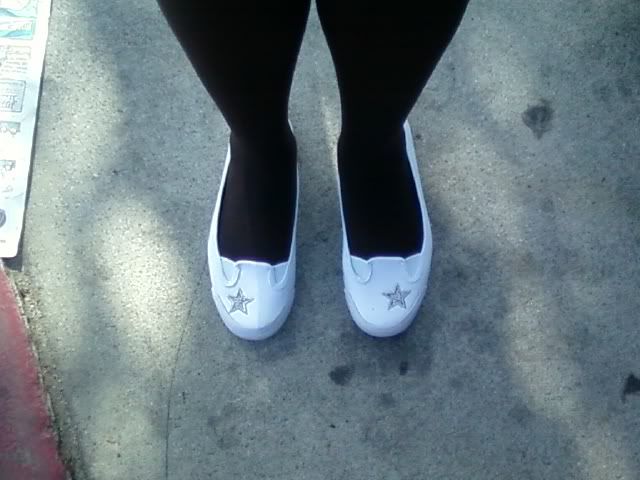 Errol: With the stars?! Too cute!
Maggie: why thank you~ it took forever for me to pick them out~ was originally
going to paint over the silver with brown in the stars, but didn't have time/ didn't
feel like it. tee hee!

Errol: Aaaand... there's me, with my classic "Silent Boy" outfit that I used to wear in my highschool years= Non-shampooed hair, black Dickies jacket, white shirt, blue jeans, + worn-out tennis shoes. Except well... I didn't have a white shirt.... I had a... hot pink one...
Maggie:

i picked it out~
hey! i deserve sexy Darling too
Errol: Coming with this preset package comes the semi-new (new in terms of: not being seen on my camera) Mirror's Edge special edition yellow shoulder bag and what seems to be a 2nd page of a Comics section of a Sunday Newspaper? Oh where could the infamous 1st page be?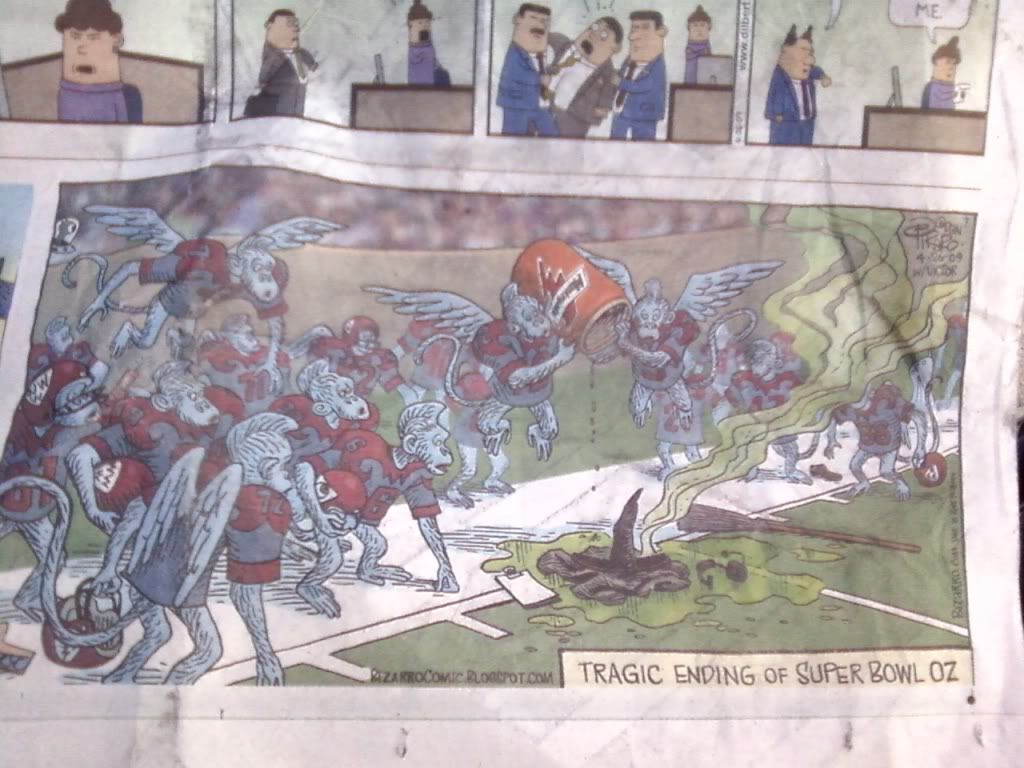 Errol: I thought this was a goodin'.

Maggie:

Errol: Anyways! Our first trip was to the infamous CoCo's!
Maggie: oh yeah! we went to Coco's~
To Coco's!
To Coco's we went!
Errol: Ah... right... it's like a repeat of last Anniversary's "forgot to take pictures while I was there"... Oh well!

.... I honestly don't remember what I ordered, it has been too long since then.

...Mags, please fill in the blank here!
Maggie: um... you had a big breakfast plate thing, replacing the ham with something... and i had eggies and hash brownies~
Errol: It was here where we exchanged gifts with one another...
To her, I gave a 5-page pink-rubber-band-bounded comic story I named
"Clouds of Bubblegum"
. A short-story comic of a BigDumbPuppy and Mr. Foxie's 50th year anniversary - and their flashback of how it all started.

Such a nice story. There was even a nice drawing of them cuddling on the back to finish off the "book".
Maggie:

Mi got Darling a pair of ninja shoes!! they're a little big, but nothing a good pair of those tabi socks can't fix! and a Bop-It!! he was talking for a long time before about how much he missed Bop-It and how fun it was to play, so i gots him one off eBay~ it's from Florida~
Errol: And I love both, babe.
Errol: I also gave her poems I spent days worrying about... I've always been meaning to write her poems again... Maggie's so different from anyone else, so worth everything that normal words and sentences simply could not and cannot describe how I feel for her. So I spent days trying to bring back the "poem" in me, just so I could express myself again.
Maggie:

they were beautiful, my love~
Errol: Included with those, I also gave her a new DS!!!!!!!

...

I thought it was time she got back that side of her again. I quite missed the part of Maggie that would spend hours fiddling with her micro-games and telling me all about them. And to make sure she could have fun with it, I also got her Gardening Mama and charged her new DS overnight.
Maggie: and i got Darling ALL FOUR SEASONS OF YU YU HAKUSHO! UNCUT! UNCENSORED! FOR YOUR ANIME ENTERTAINMENT!!

you're welcome~
Errol: We watched that for an entire week and a half... t'was awesome entertainment.
Errol: After gifts were traded and food was eaten, we headed back in order to leave presents back at the house.
Maggie: ... and go to the bathroom? i can't remember~
Errol: Just so you could comb your hair.
Errol: And then we went off to our journey!
Errol: And there's Maggie, sporting her ever-adorable Lion-backpack with the rather fragile -yet stylish- weather jacket.
Maggie: that's the lion Darling gave me as a birthday present a couple years ago~ ain't he cute???
Errol: Our travels will now be ridden through the Metro Station!

Maggie: train!
North Hollywood Metro Station! Here we come!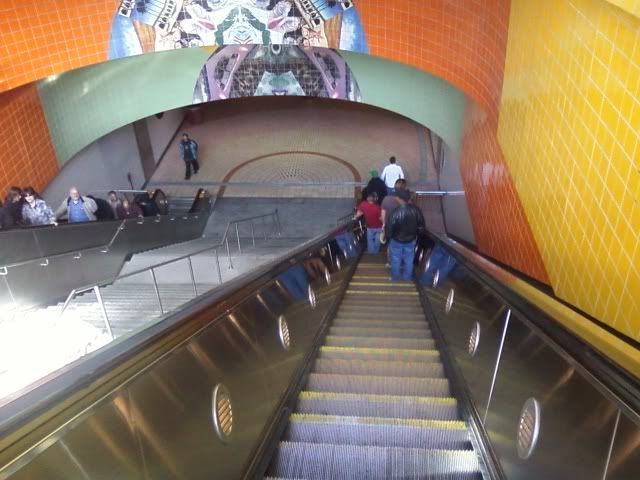 DOWN WE GO!!!
Errol: No pictures on the train though - feel rude snapping pictures while people are rushing around.
Errol: While there was not much action within the train itself, there was a reason for it: I was quite quiet. For what reason? It seemed that the window I was sitting next to, smelled like crap. ...not the floor, not the chair, not the wall... it was the window itself, only the window! What did people do to the poor window?!
Maggie:

i'm so sorry i didn't notice Sweetie~
UP WE GO!!!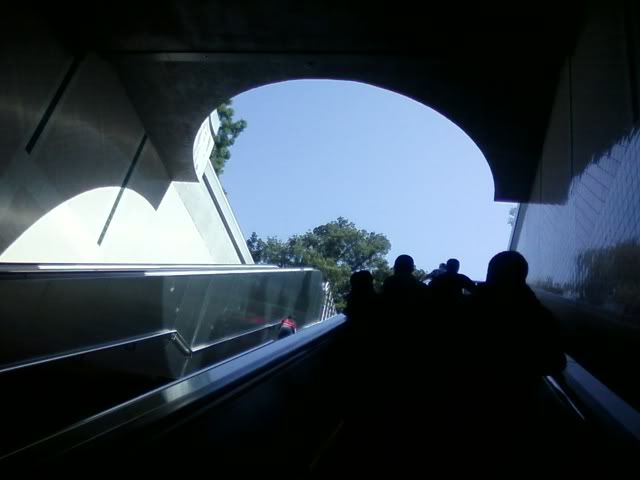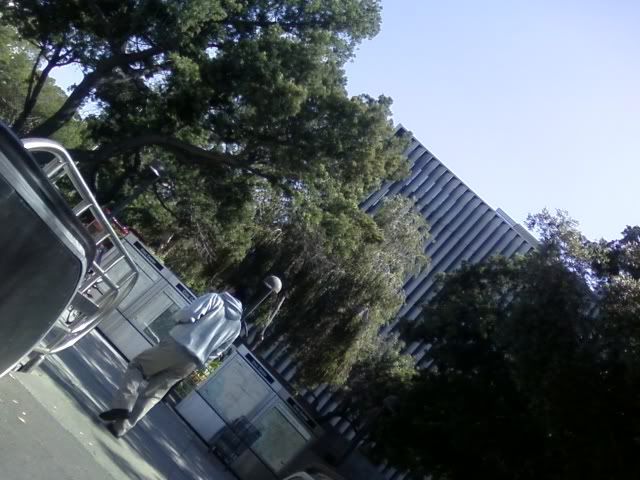 Snake: SUNLIGHT!!!
Errol: Ah! Finally! Fresh city air! Now off to our destination! But wait, there seems to be something here of worthy note...
Errol: Ah yes, Matthew McConaughey's creepy face-changing smile posted on every poster for that movie... Maggie hates that face.
Maggie:

Errol: Remember this picture??? It was the last picture I took in our last Anniversary! And this is it from a different angle!

...wow, it almost looks 3D!
Maggie: it's all like 3D animation type!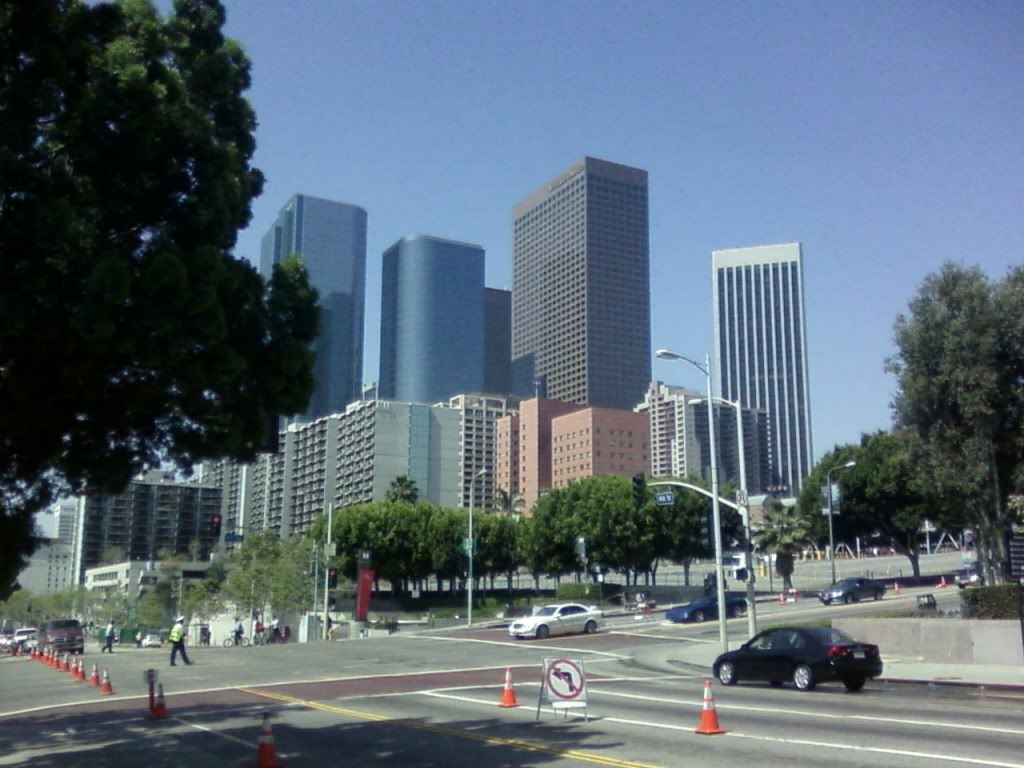 Another beautiful day in wondrous L.A.!!!
Errol: I love this place...
Maggie: it looks like a painting~
Errol: Hm? What's this? I know it's hard to see, it was hard to see from where we were standing also - it seems that there's some kind of book drive/convention/thingy across the ways! There always seems to be something happening around here.
Maggie:

that's cuz people are jealous they don't have a special day like our's~
Errol: Eh?? Telemundo???? ...ah right, technically speaking they're known as "KWHY-TV", but nonetheless owned by Telemundo.

There really is something always happening around here. Well, we better move before it gets crowded...
Maggie: it was corporate sponsored, WAY TO SELL OUT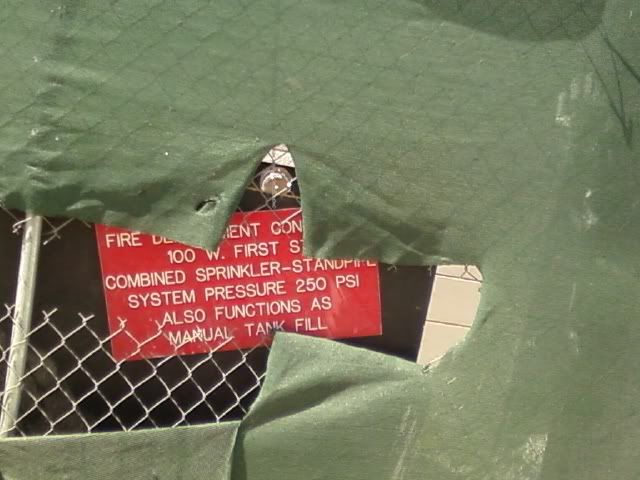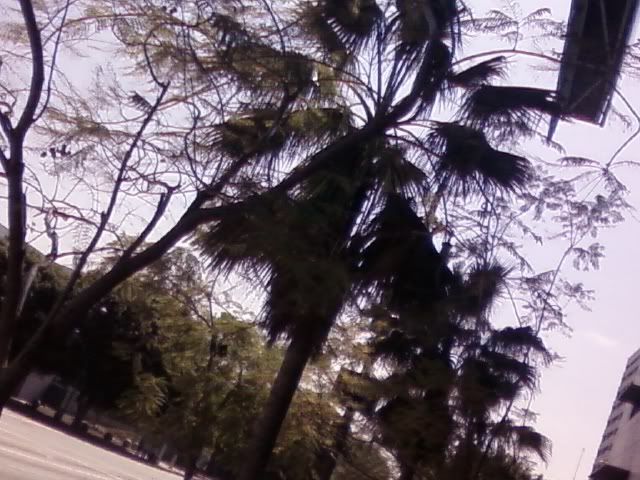 Random Pictures!
Errol: I LOVE taking pictures!

These are some random ones I took. Each picture tells a story...
Maggie: of how Darling kept taking pictures!
Errol: Of course, taking all these pictures made Maggie laugh at me as I'd literally take a picture of anything that was made of reality.

Whatever.
Errol: Haven't figured out where we were going yet? Despite how obvious it is, I haven't mentioned it once throughout this entire entry other than the intro... we're going to...
LITTLE TOKYO!!!!!!
Errol: Er... well, that IS Little Tokyo... just the edge of one side of it. Afterall, if you're gonna' head out into the city, you're gonna' have to get some coffee, amiright? And no place
destroys all other coffee shops so that it's impossible to have anything other than
makes coffee like Starbucks!
Maggie: full bars!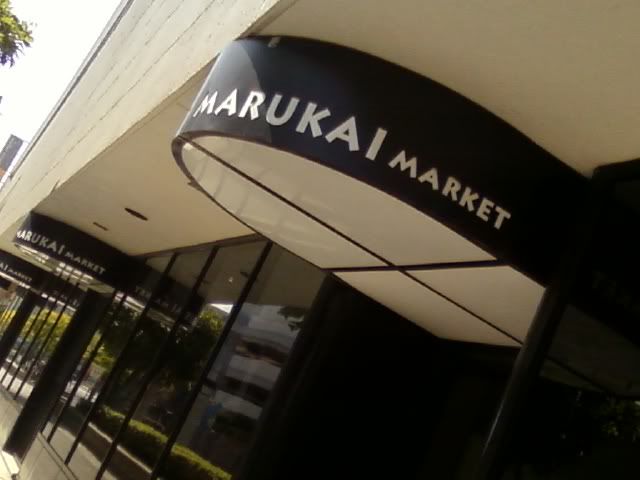 MARUKAI!!!!
Errol: Ah... well... yes... last time we forgot to get a current picture of Marukai Market, but here's the new one! And it seems the natives have gotten quite used to the place! Back then, there was only a few people wandering in and out, but now it's just as busy as the old Marukai! Don't worry, they haven't sold themselves out, they just wanted to look nicer is all.
Cute Carts~!
Errol: And our purchases within these walls were as follows... Maggie, if you please: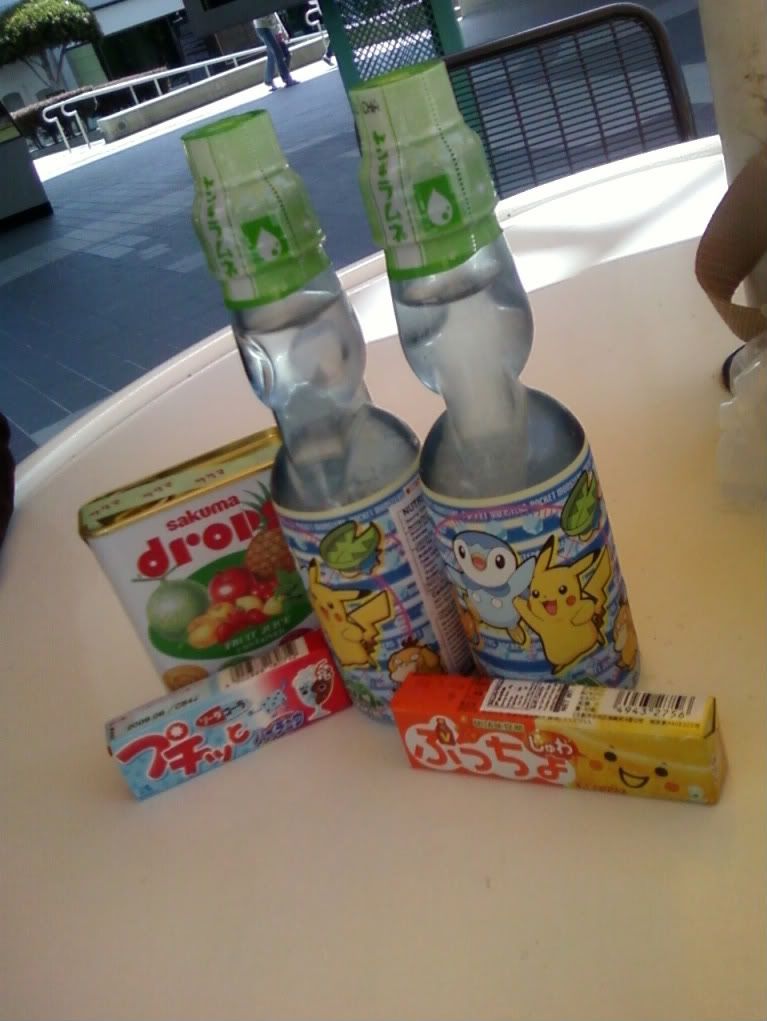 The Suspects
Maggie: we got Ramunes with pokemans on them!! isn't they totally cute? the sakuma drops and candies were bought cuz i seen them on a
website and wanted to try them out the legit way! Darling really likes the Drops, while i'm partial to the chewy candies!
Errol: Hell yeah I love the Sugar Drops... at first I thought they were okay... but since they weren't as sweet and strong as normal American candy, I never got tired of the flavor. After running out, I had this awful taste in my mouth for 3-4 days straight. Everything didn't taste good anymore, I was having fruit drop-withdrawals... @_@
Errol: And remember folks, while you're at Marukai...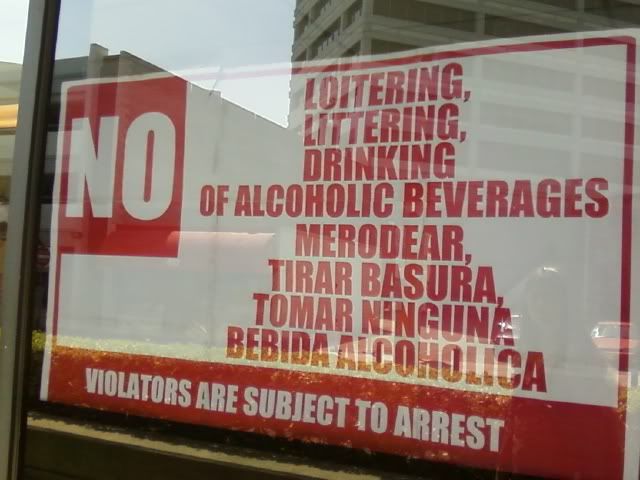 NO TOMAR NINGUNA BEBIDA ALCOHOLICA!!!!!!!


Maggie: how come they don't mention the get arrested part in Spanish?


Errol: Maybe they're used to it? OH!! RACISM!! ZING! ...

Nah, just kiddin. Heh heh.

Errol: And off to inner-Weller Court we went!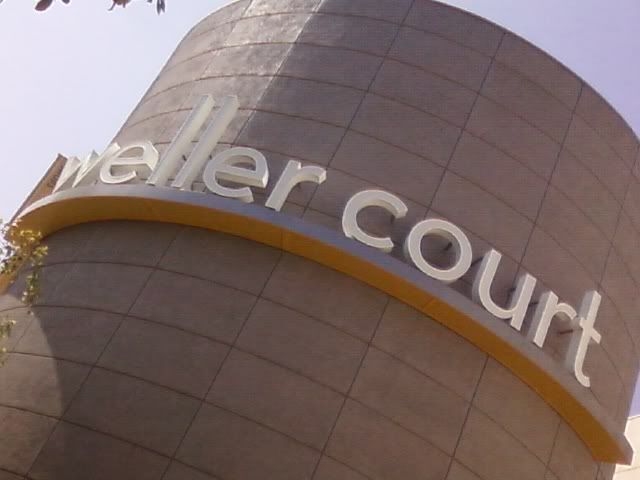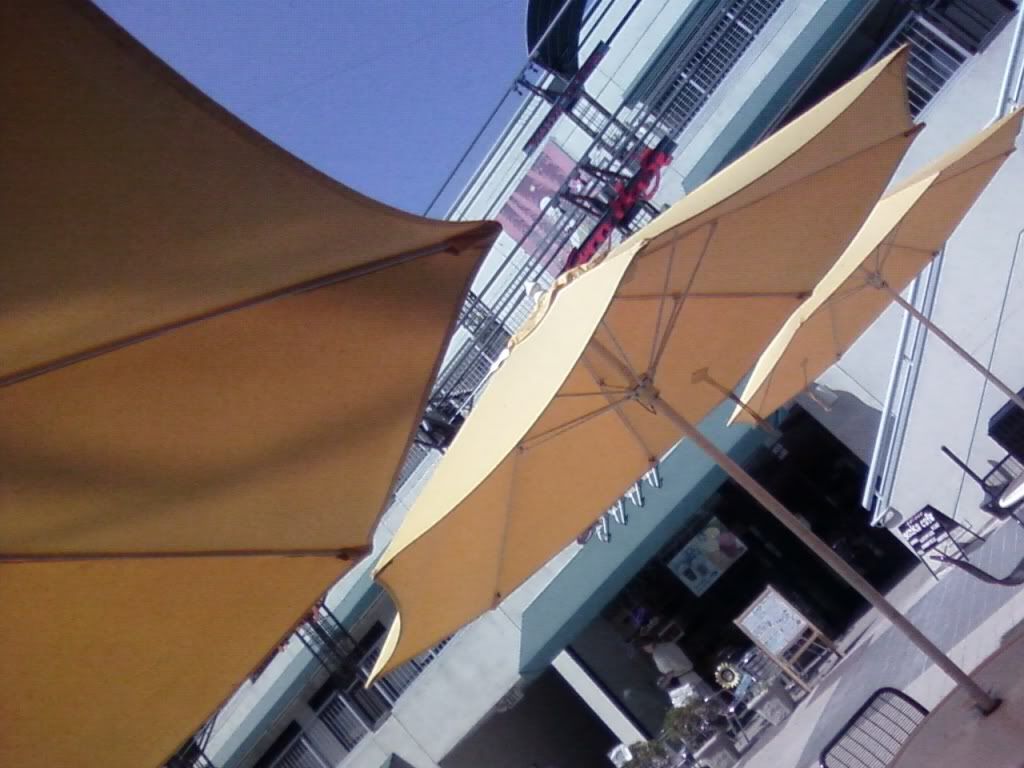 Weller Court

Errol: I forgot to mention... this Anniversary's theme was "The First"... we planned it so that this Anniversary followed the route of our first Anniversary celebration. So in Weller Court, just like our first Anniversary: we sat, chilled, guzzled down Ramune, ate candy, and stared into each other's eyes...

Maggie:

... even thought that picture wasn't there the first year~
Errol: Now that we've gotten that gushy stuff aside, let's move onto a main attraction for us!
KINOKUNIYA!!!!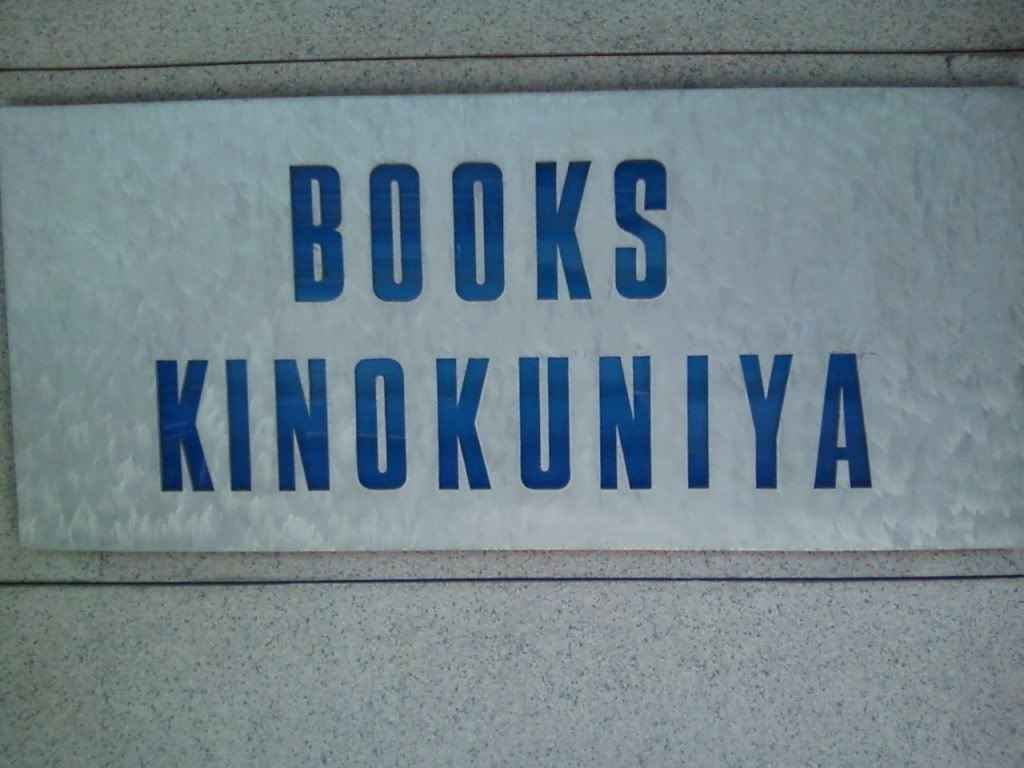 Errol: The ever-expensive Japanese bookstore attacks with vengeance!
Maggie: can't argue if the prodcts are good!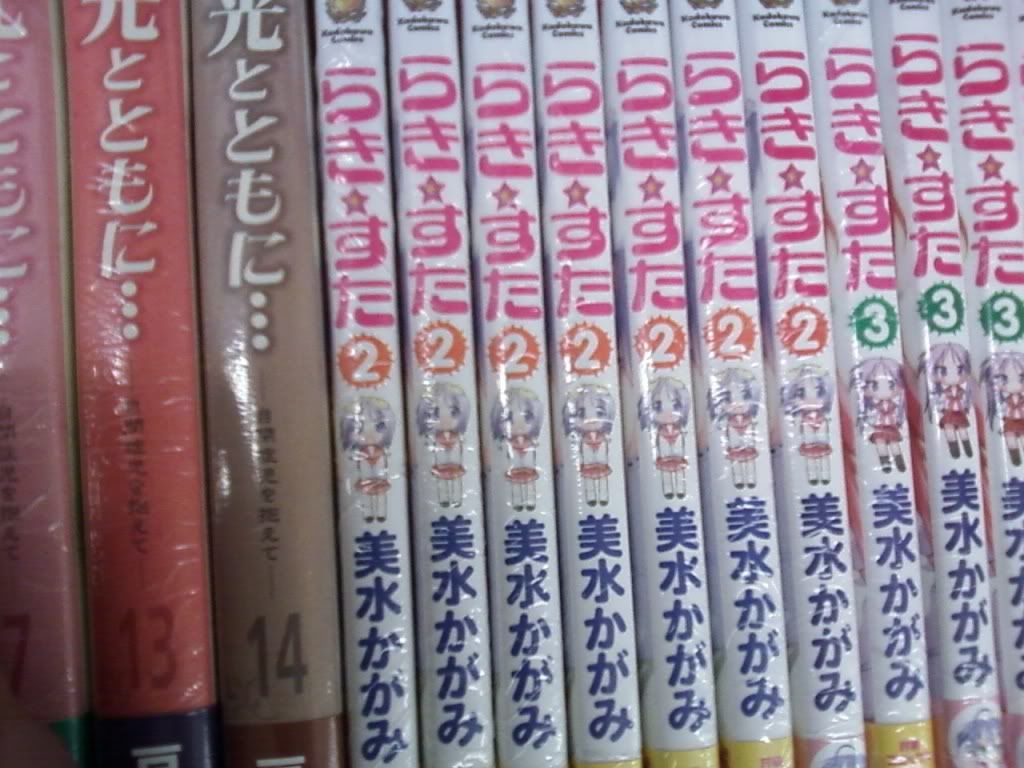 Errol: OUCH! Despite Maggie's readiness to finally start collecting Lucky Star manga, Kinokuniya strikes a cold shoulder with a MISSING FIRST MANGA!!! Without the first, how much worth are the others???
Maggie: ...

PIPEROIDS!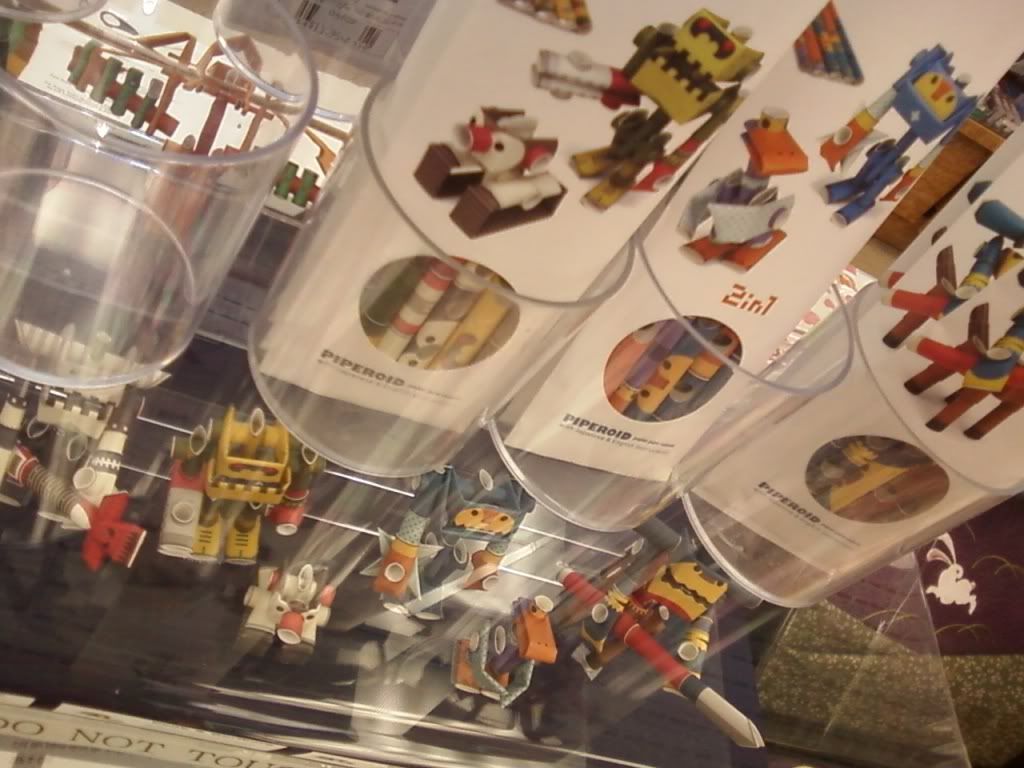 Errol: Now here's some of the coolest things I have ever seen! Meet Piperoids! Robot models you build from paper tubes! Intersted in 'em? Give this a look:
Piperoids
.
Maggie: they're cool, but kinda weird lookin~
Maggie's Corner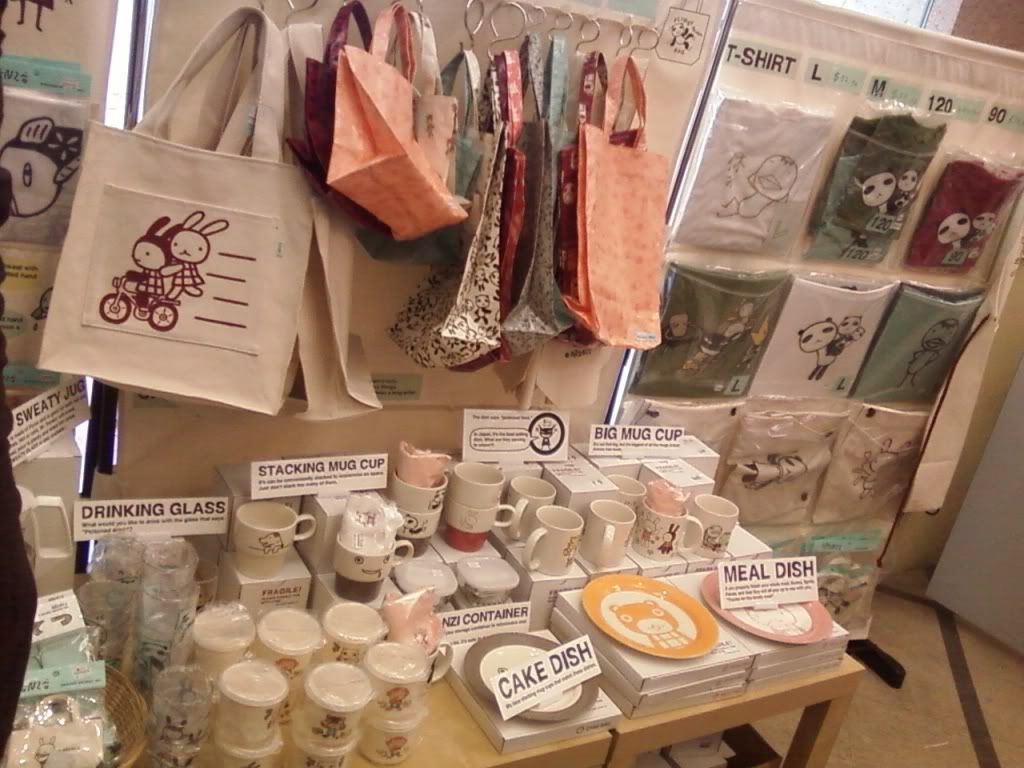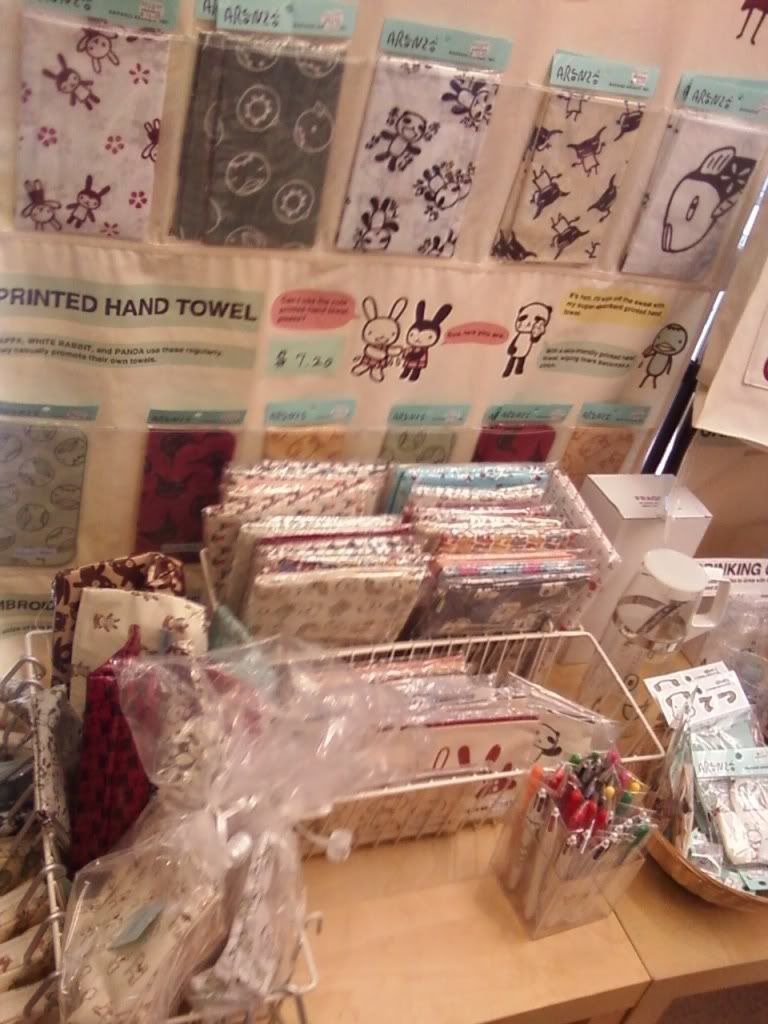 Errol: Welcome to Maggie's corner! Named such since she claims everything here is her's! Mag's quite a fan of... well... I'll let her explain it.

Maggie: MY CORNER!! MINE!! all these wonderfully products are from Aranzi-Aronzo! a totally cute, made-by-hand store thing in Japan that sells all sorts of cute stuff, and EVEN BOOKS ON HOW TO MAKE THEY'RE CUTE STUFF!! they're like the perfect!! i got a little towel with kitties on them, and it's come in so much handy!! and for only $7.50!! a tad expensive, but you pay for quality! check em out at http://english.aranziaronzo.com/index.html
DOMO!!!!
Errol: Having left Kinokuniya, we were on our way to the most recognizable part of Little Tokyo, but first!
Maggie: so many shirts! so cute!
Udon's Art of CAPCOM

Errol: I've always been wanting to get that little ditty, but never did. But on Anniversary, I finally got me it!

Nice artbook, indeed.

Maggie:

no! i bought that for you!



Errol:

Whatever, it's still mine.

No, but really, thank you babe~!

Errol: As for Maggie, she got herself a face/handtowel/handkerchief-thingy from that thing she likes, as well as a postcard! ...and supposedly, I'm supposed to send the postcard to her. O_o;
Maggie:

yes you are!
Errol: ...supposedly it gains value to her if I were to legitimately send the postcard through the mail... but I said I'd only get started on it once she gets me some stamps. And she hasn't, so ha.

Maggie: i'll buy the stupid stamps when you send it!

HURRY UP!!

Errol: Wait... wha-?? O_o
Bye Weller Court!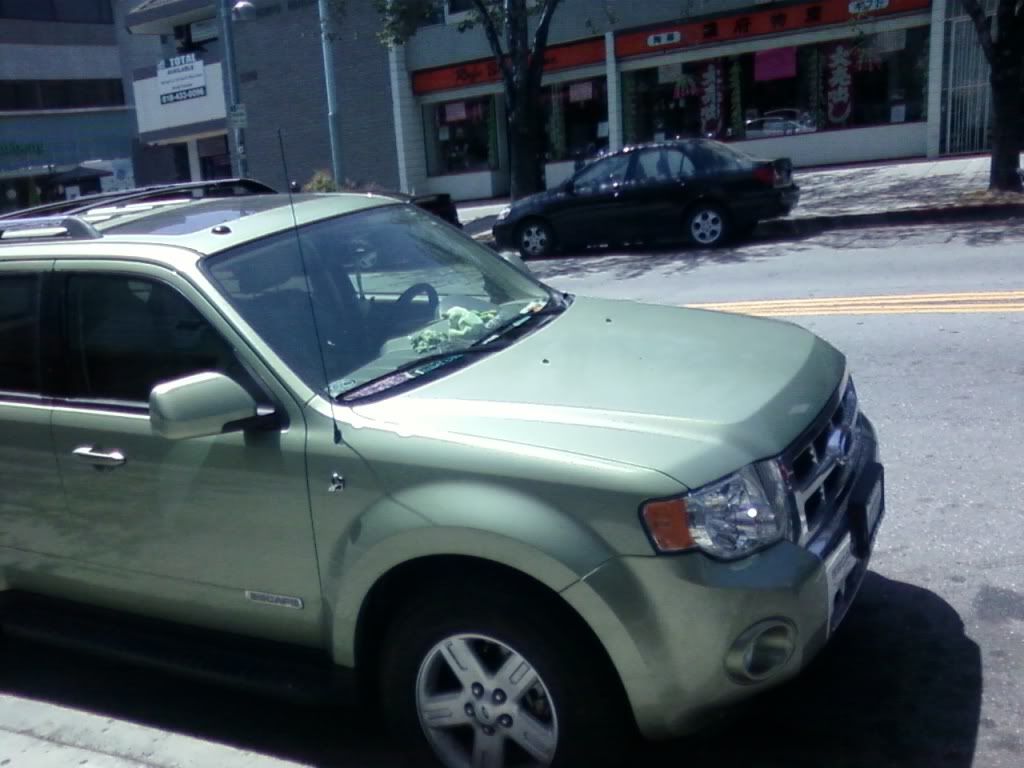 CAR!!!

Maggie: a green car!
Errol: Anyways... onto...
Japanese Village Plaza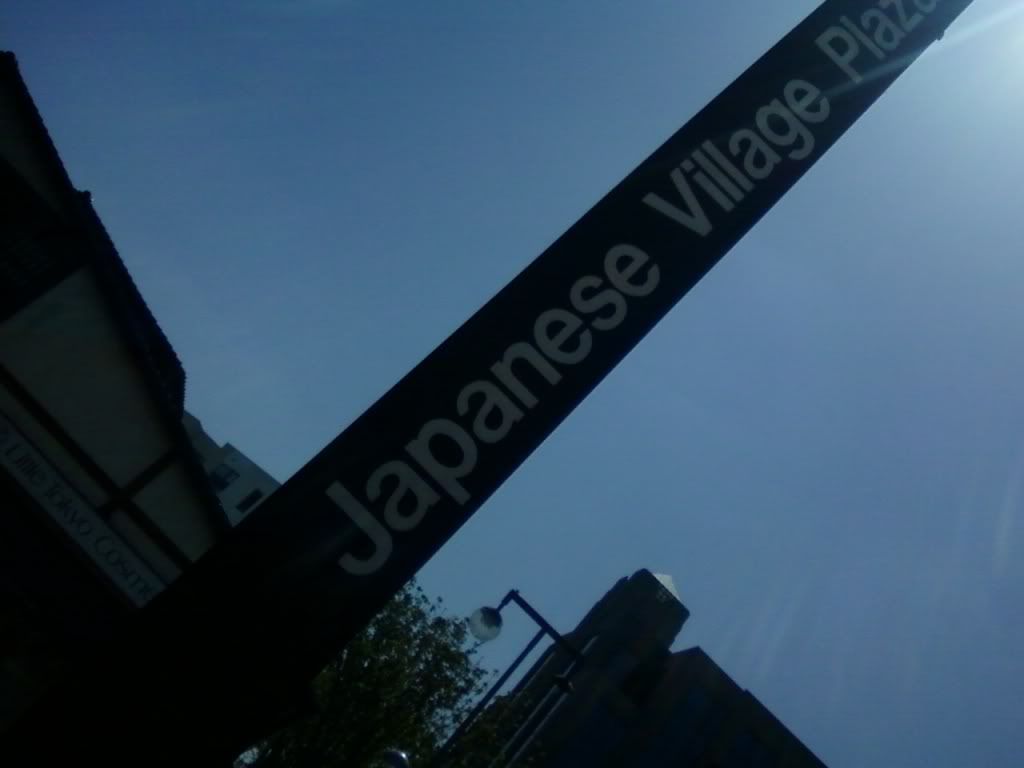 Errol: Or according to the picture on the right... "Japanese Village Plaz-
SUNLIGHT!!!
"
Maggie:

ICE CREAM!!!!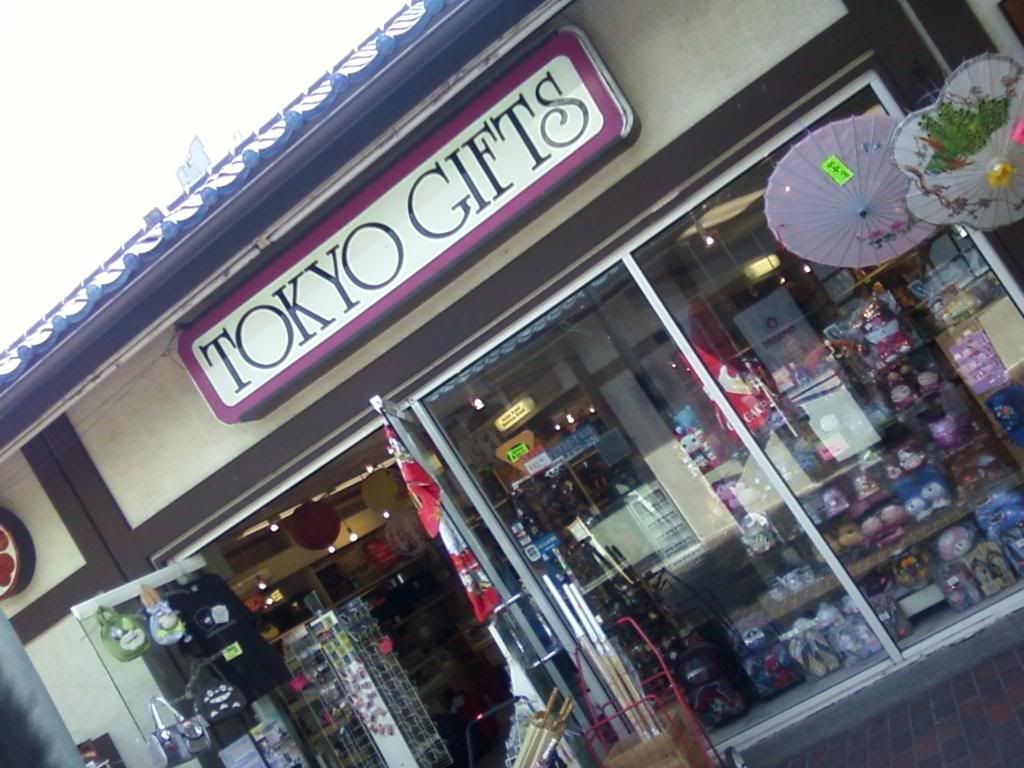 GIFTS!!!!
OUTLETS!!!!
...SANRIOS?!!
Errol: At the outlet, I gots me a Galaxian toy/model/memorial/thingymajiggy??? (I'll show it later)
Maggie got herself two Pokemon lunchboxes: Palkia/Dialga and Darkrai. She also got herself a cute puppy and owl charm for her phone/DS.
Maggie: again, I BOUGHT THAT FOR YOU!

cuz i was the provider this time around~
Errol: It seems we're heading to Jungle in this direction...
Errol: And into Jungle we go! I totally forgot to take a picture of the front!
Lookie That!
Lookie There!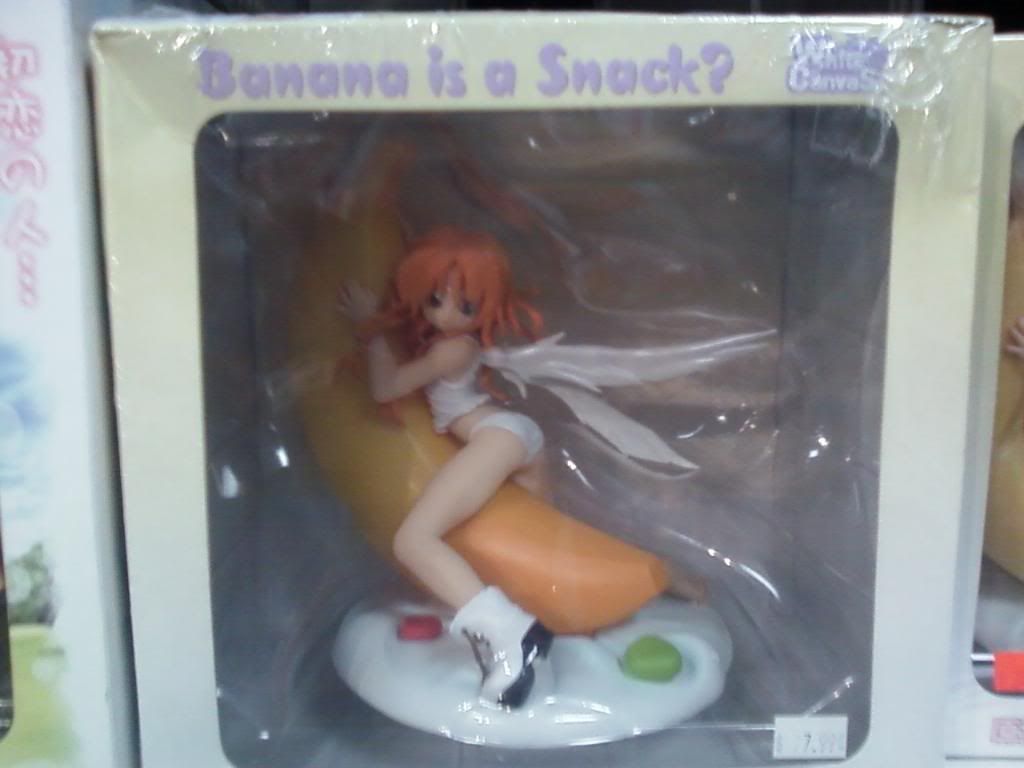 HOMG!
OOPS!
Errol: While at Jungle we decided to only get a few things... one, a Val (from Akazukin) build-it-yourself figurine-thingy... and 3 CDs of DigiCharat. Why bother with getting the CDs? Well, they were only a dollar each. Might as well, y'know?

Maggie: they still don't have much cute Lucky Star stuff outside the expensive and make-me-look-lesbian figurines...
Errol: While inside, Maggie and I met a little runt of a pup who had made himself at home inside the store. The little thing tried to take Maggie's shoe.
Maggie: i like him! he's my friend! he had paint on him!
Errol: And outside, the pup had ran off, exploring the rest of the plaza.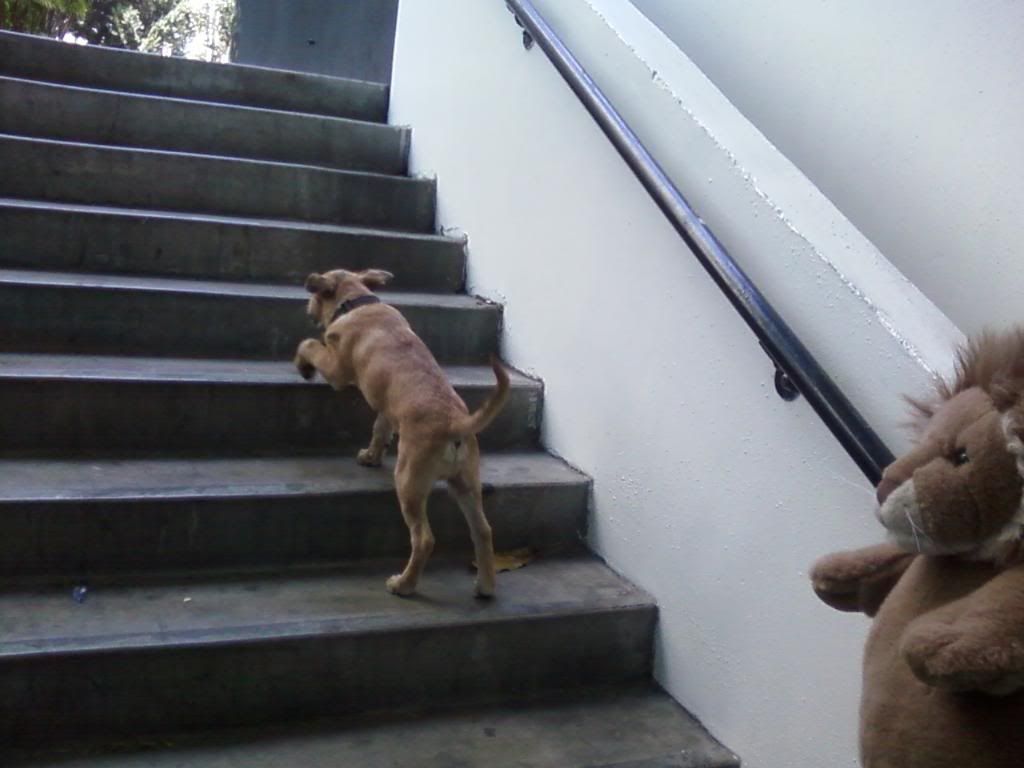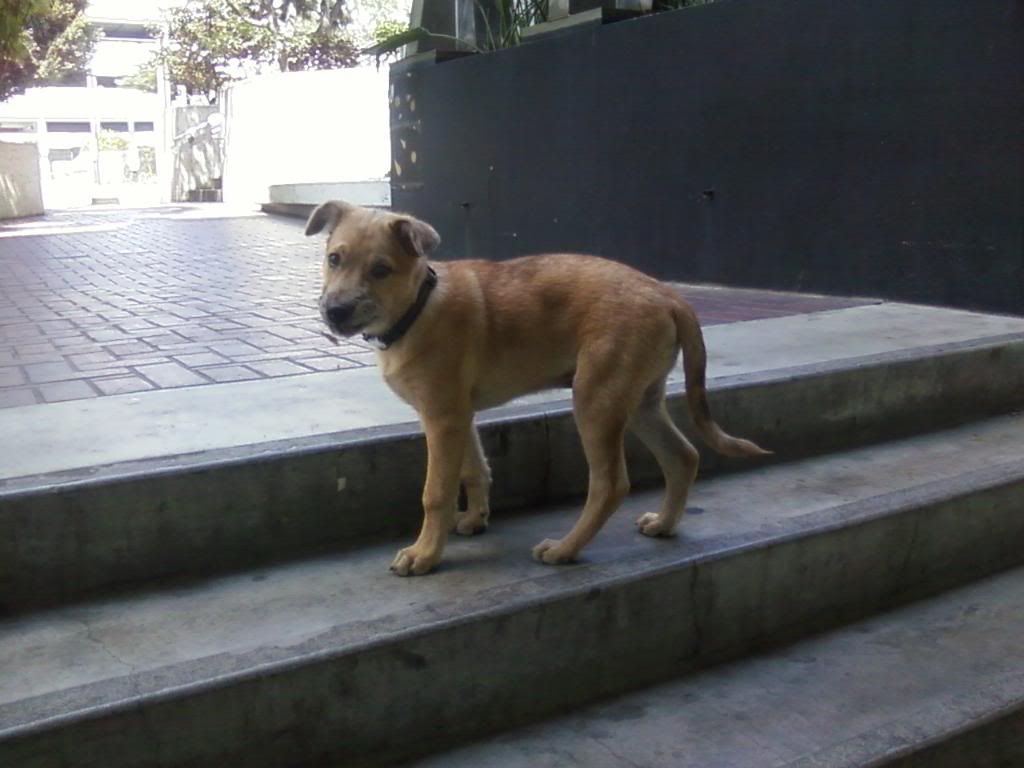 Errol: And now, off to the mall! ...but first, we saw a dying store...
Maggie:

Errol: The Plaza Gift Center... a place run by family, selling nicks and knacks for years... they sure did sell some awesome stuff. Sadly, we couldn't get in on the sale due to the fact that it's just one of those stores that there's literally nothing you want to get in there on some days. I'll miss the place, nonetheless.
Maggie: indeed! miss you much, Dharuma and old anime VHS tape store... and place where i got that nice cookbook a while ago...
Errol: Onto the Little Tokyo Mall!
Errol: But whoah, what're these things?! Fans? Apparently Little Tokyo had done some renovations while we've been gone and added these new crosswalk designs. ...don't tell them I said this, but I think the designs are kinda' ugly.
Maggie: i like em, but they mess with the eyes a little too much~
Errol: Welcome to Little Tokyo Mall! Where you'll be greeted with...


A glass wall fountain, watch as running water flows down with a beautiful sakura scene behind it...


very pretty! very... Asian?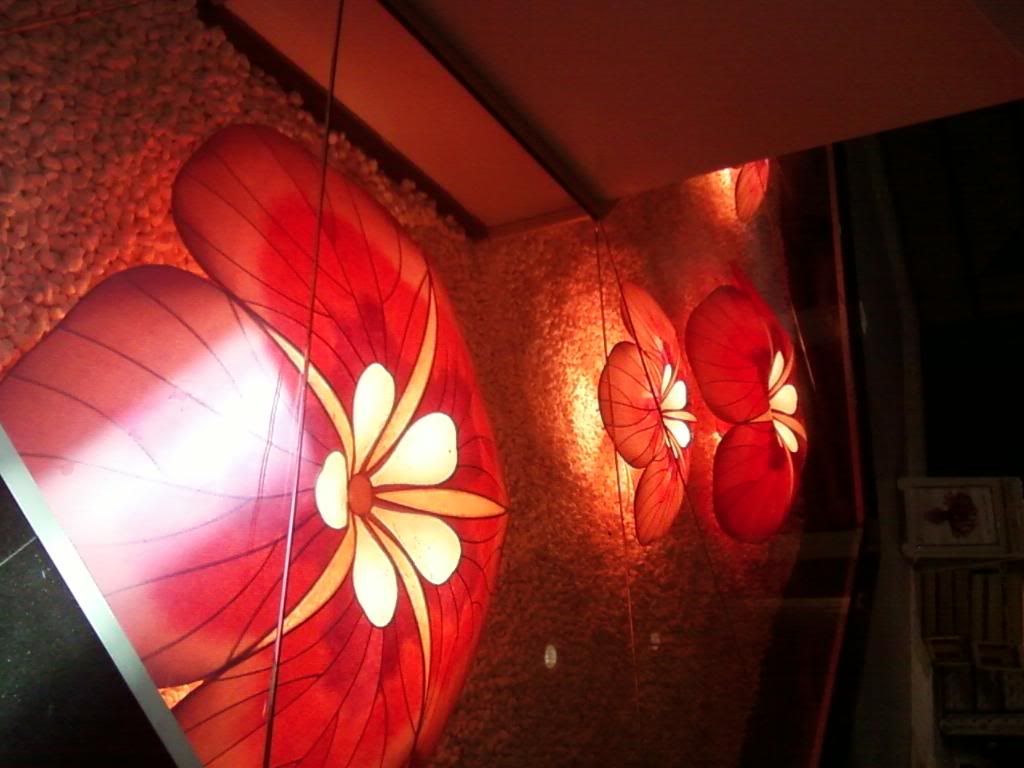 ...a glass bench with glowing red sakura?? ...Ummm...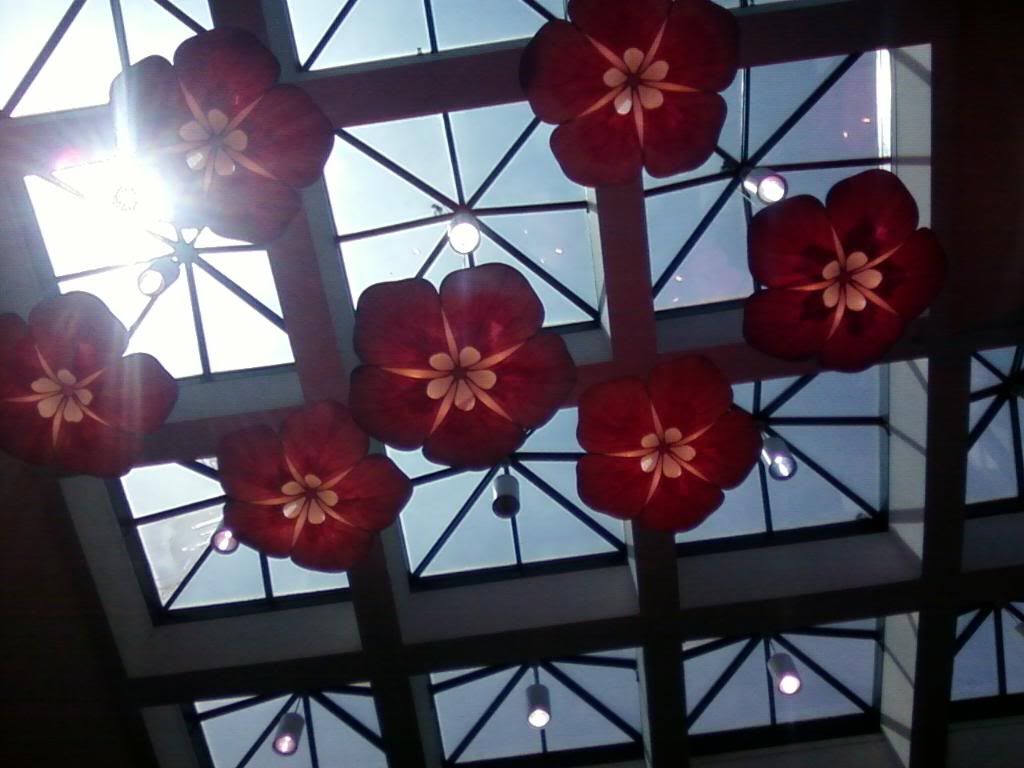 And red sakura lighting? Watching us from the heavens? I guess?


SH! you'll make them angry!

Errol: Well, with all the Sakura's around, let's hope our favorite restaurant's still around...
SAKURA NOODLE??!!!!
Errol: What was wrong with just being called Sakura?!!
Maggie: oh... i didn't notice the name change! *remembers the receipt* OH!...

that's weird
Errol: Don't get me wrong, I'm glad the place is alive and well, but seriously?! Sakura NOODLE?! What is that? Some new form of Noodle made of Sakura Mochi??
Maggie: Sakura Bowl? Sakura Yum-Yums? i think those fit better...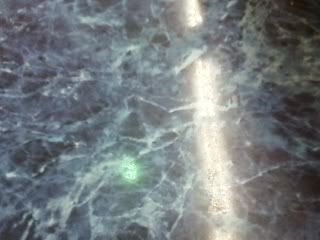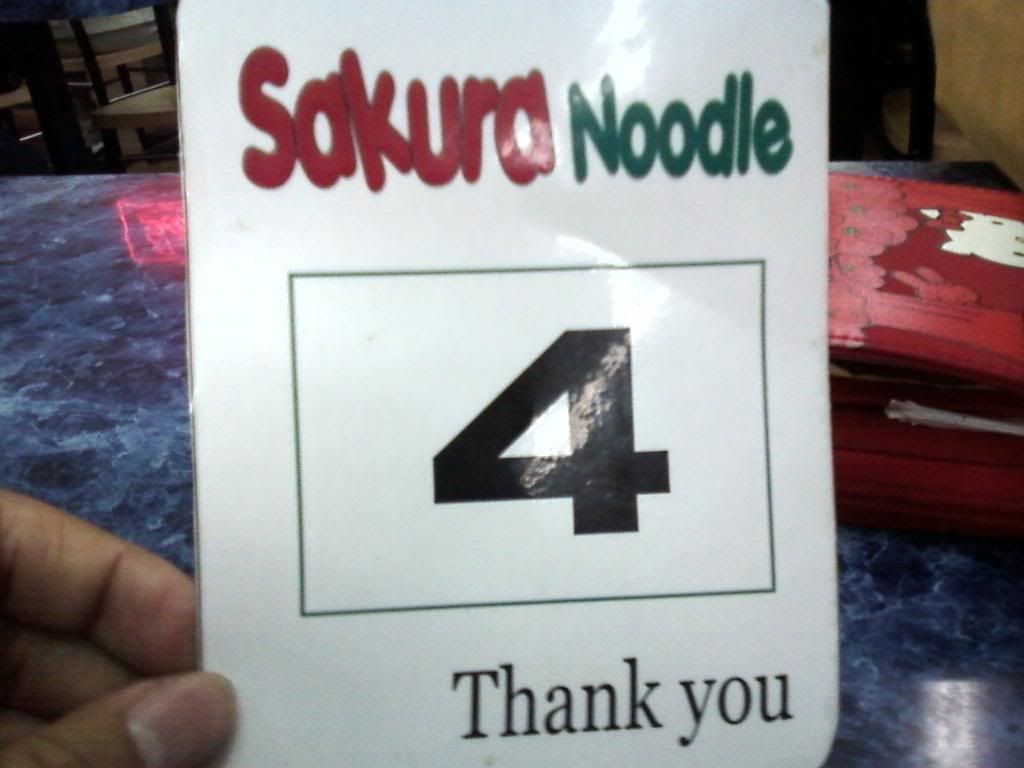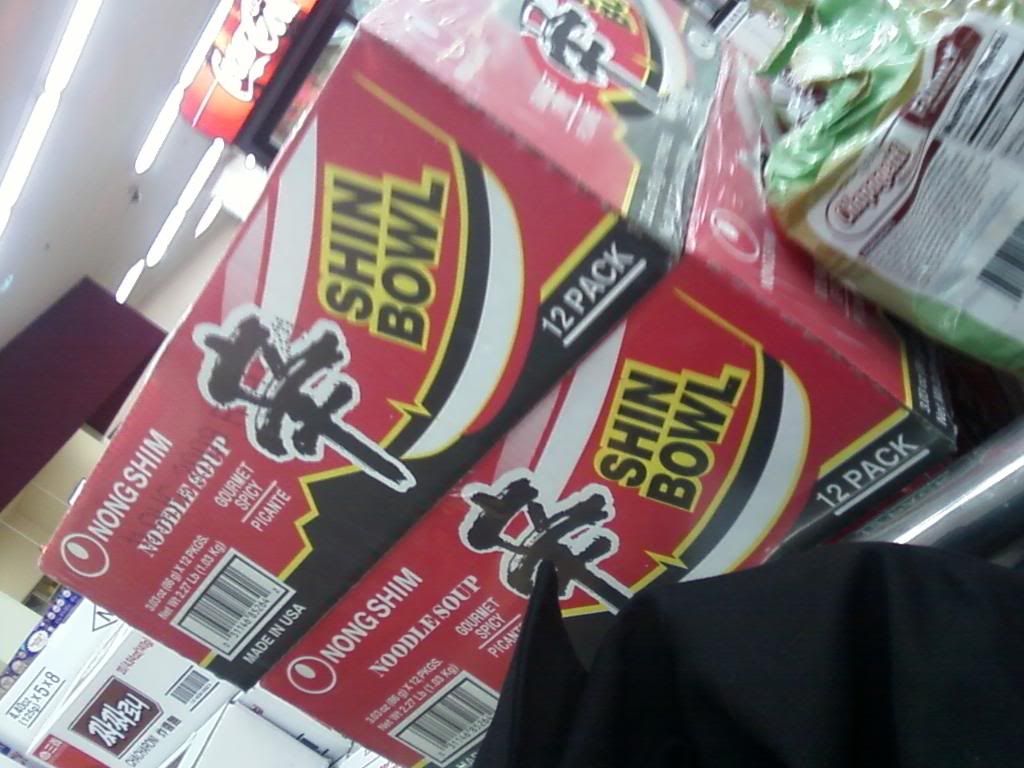 Errol: Awww? Isn't darling cute? Look at that table! We're number 4~! Ginger Ale for only 99cents! Look Shin Bowls! Love that stuff! Awww, darling's all distracted while I snapped this one!
Maggie:

they didn't have Coke there... i wanted a Coke... walked all over the friggin store... NO COKE

Errol: Lookit' that... the new market's tryin' to be all "We're trendy and future-esque~!". ...I have no idea what they're talking about on the screen, btw.


Maggie: neither do i, something about fresh meat?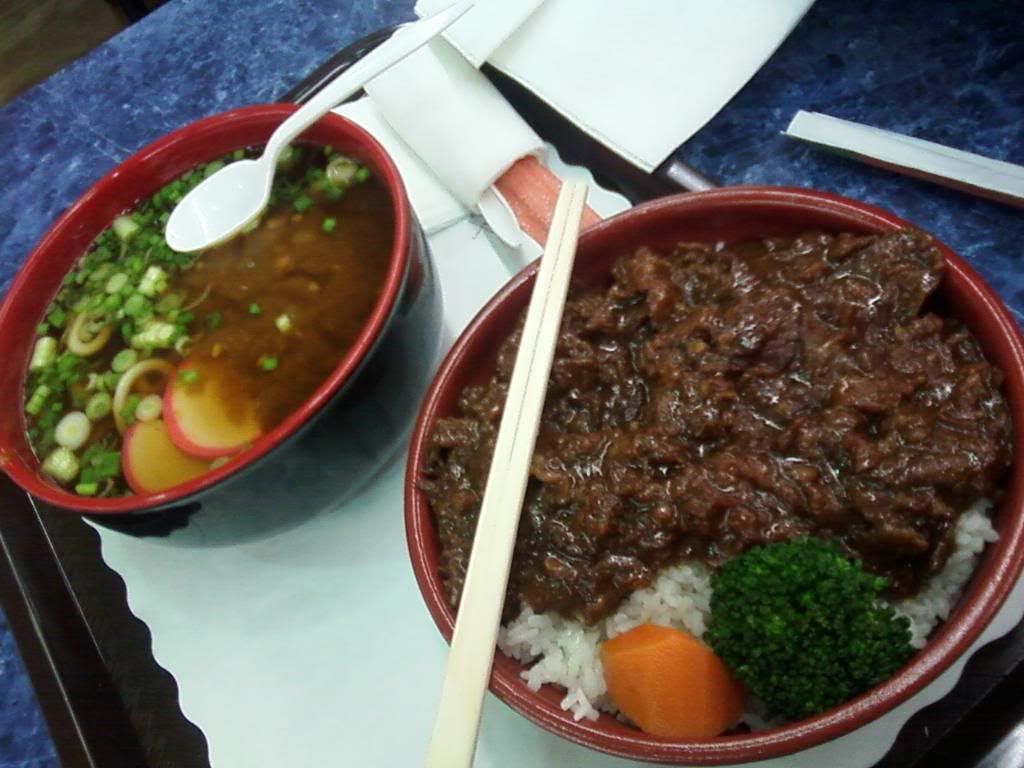 Food's Here
Errol: Looks good, don't it?
Maggie: it should have been...

Errol: Mags and I had our usual, I had the beef bowl, and she had the curry udon. Delicious as mine was, I find it rather ironic that the new name of "Sakura" is now "Sakura Noodle" despite the fact that Maggie didn't really enjoy her usually-overly-delicious curry udon. It's sad that Maggie didn't like it, but it truly was humorous in the irony, in my opinion.
Maggie: the flavor wasn't in the noodles like it usually is... made me very sad, especially since Darling's food tasted so good!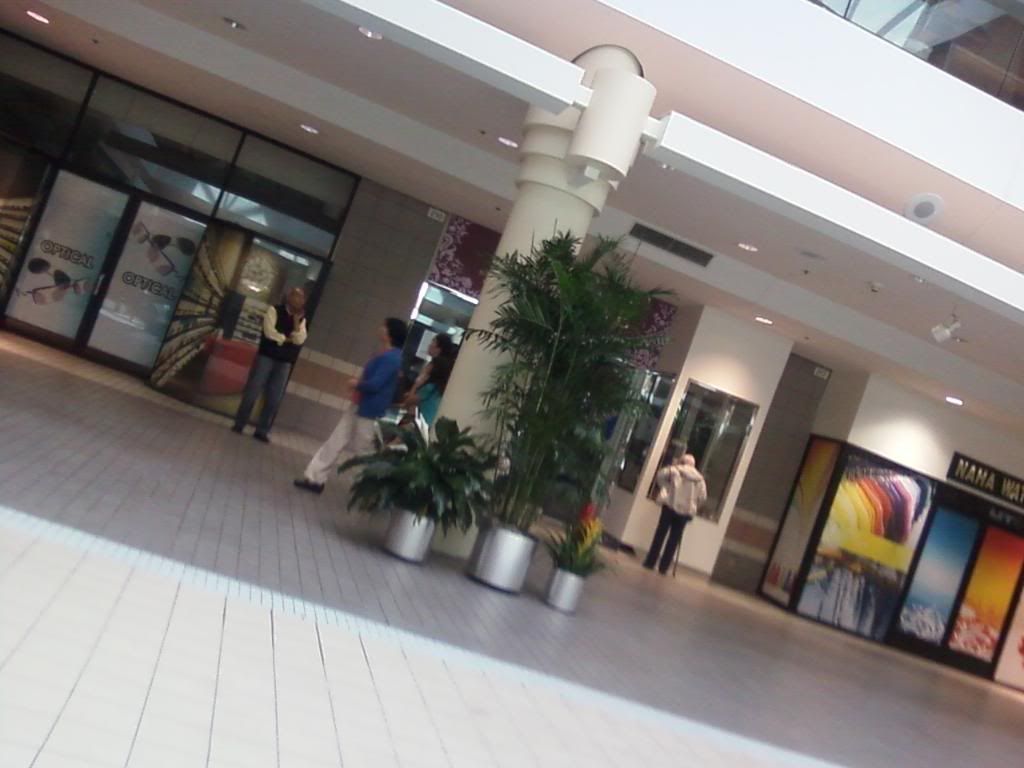 Look! The mall's finally got the stores leased to other people!
Errol: Ah... it seems like eternity since the mall has gotten back on its feet... it felt like a beggar for years, only surviving barely with very few stores that only the residents went to.. but now with all these stores, and not to mention the rather popular Karate dojo opened on the 3rd floor - it really feels like it's gonna' come back to life.

Maggie: honestly, just glad the narutards weren't there to ruin it~
FUN AT THE JAPAN ARCADE!!!
Errol: Due to Rival Schools' arcade machine being busted again (I couldn't do any specials while Maggie could... SO UNFAIR), we were able to play the Taiko Drums TWICE! Whoo~! Awesome fun, that Taiko Machine. I think we're getting better, too.

Maggie: maybe you're getting better... OH WAIT! i beat you one time! hootie hoo~
Errol: Uh oh, Maggie's feet are getting tired of the shoes. It's always the cute shoes that blister the feet...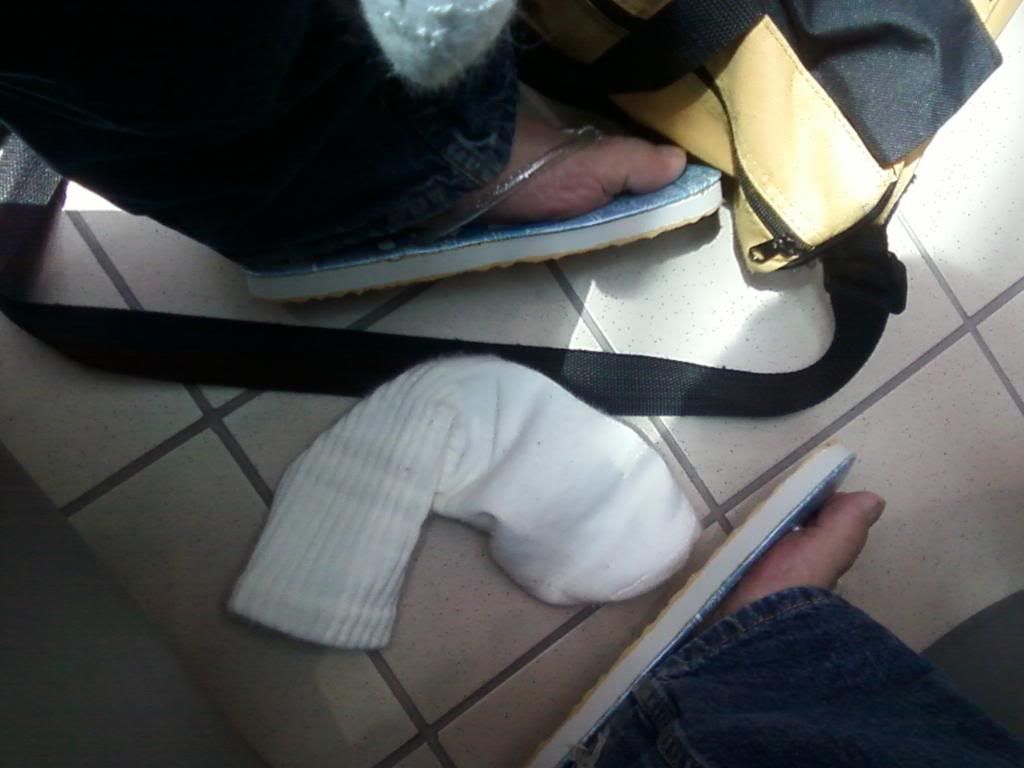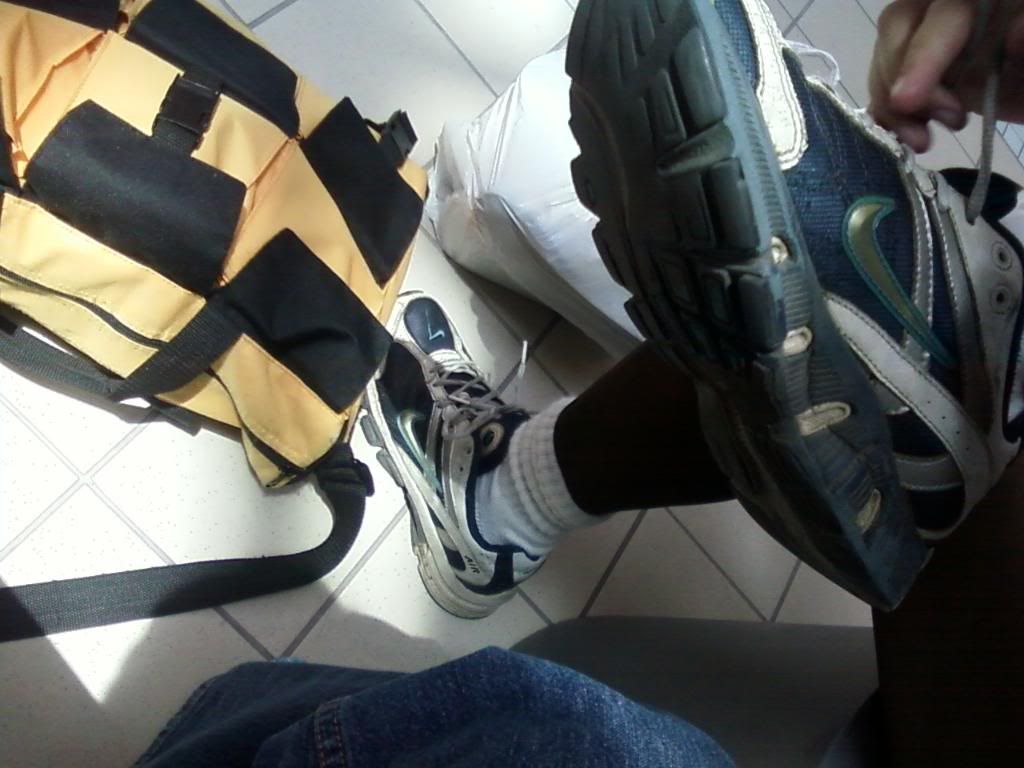 Errol: After a ton of "No, I'm okay"s that Maggie has seethed through her teeth throughout the day, she finally agreed to wear my shoes after having found a rather girly pair of slippers for me to wear. (me: left, her: right)
Maggie: it was either Doraemon or Jack Skellington, and Darling picked Doraemon~
Errol: She also got herself a cute "chocolate"-frame from the same store we got the slippers. I'll show a picture of it later.
Maggie: felt bad for the cashier girl, first the receipt wouldn't print, then she had to change the roll... and then she knocked over her Starbucks... POOR GIRL
Errol: Will you look at that? Even the outside of the mall has been revamped! ...it even has bands playing out here!

Maggie:

To America Town!
Errol: That's just what Maggs and I call it... a very distinct area right by Little Tokyo that seems to only have American stores.
Maggie: it's got a FedEX, Starbucks, Quizno's, Office Depot and a Fudruckers (that will be opening soon, we have to eat there by the way, Darling~). if you need to go to the bathroom, the only dependable one is at the Office Depot! they don't ask question, and the stalls are very clean!
Errol: For the last time, it's not Fudruckers, it's Johnny Rockets!!
Errol: We came here to chillax. After all that walking around, we wanted to rest and stare at the bounty we have obtained.
Maggie:

and each other~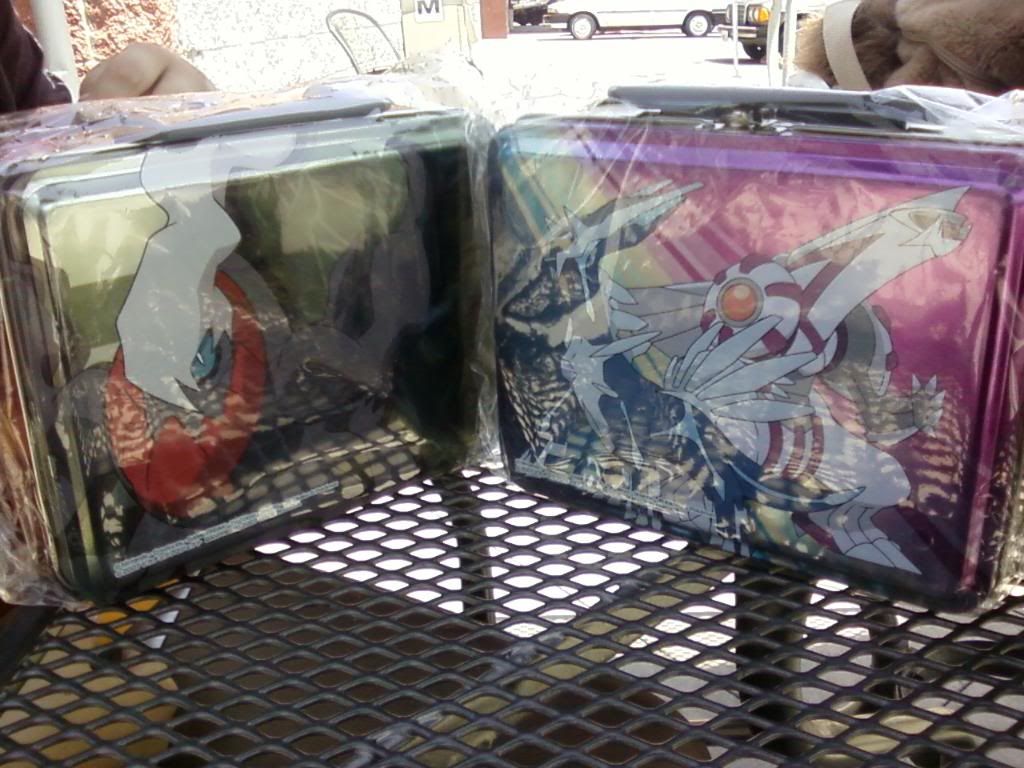 Our Bounty
Errol: It's odd that the wind is so nice around this area. Always so nice to look through our things in this place.
Maggie:

Errol: And hey, remember that picture of the ice cream place? That's our next stop~!
ICE CREAM
Errol: Do you people know how much I love ice cream? Of course you don't. You simply cannot fathom my passion for ice cream. While we were here, I had myself a double scoop ice cream, green tea on top, cookies n' cream on bottom... while ms. spoilsport only had herself a coke. Psh, whatevs.
Maggie: what? i wanted one!
Time to chill again! Now, by a fountain!
Errol: Awww, doggies and couples~!
Maggie: doggies are my friends!!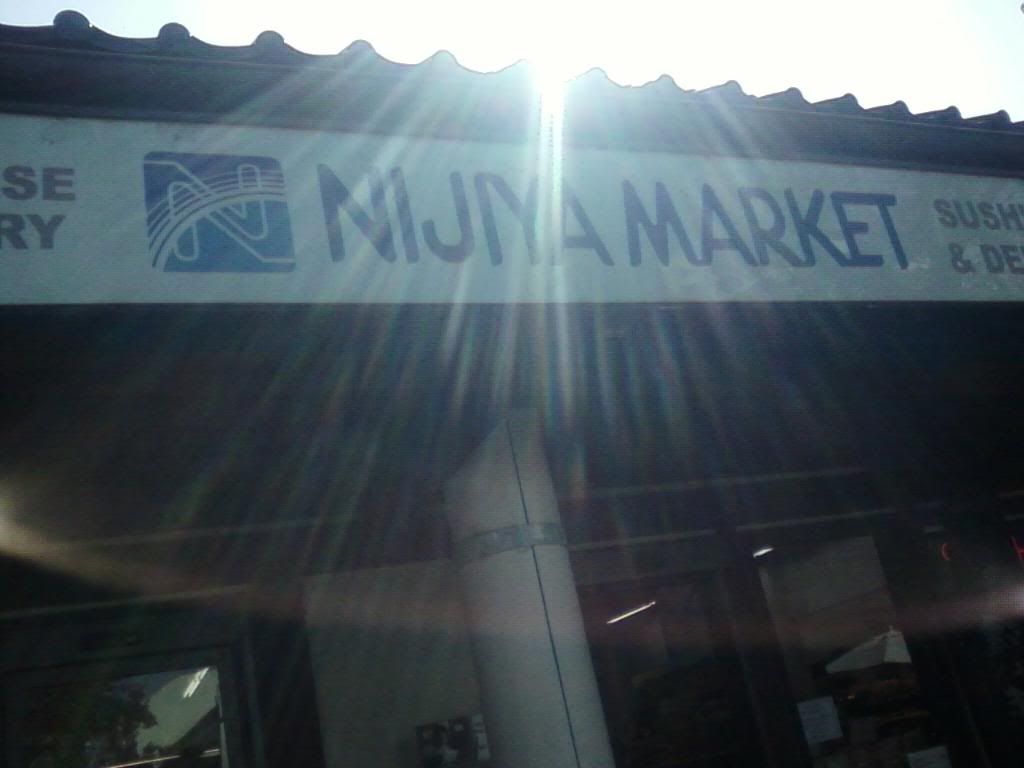 Errol: And what better way to chill than to have some snacks at Nijiya Market~! Magnum got herself a little curry-meal-treat, and I had a bucket o' mangoes. Heck yeah.
Maggie: wasn't that hungry, but wanted to make it up to mahself for the sub-par curry udon, twas very good though! the microwaves at the store aren't that great, two minutes and the food barely contained any heat!
Errol: Well, it's time to take our leave... Little Tokyo's been fun, but we decided we'd end our Anniversary at home (with a quick trip by a game store)... so farewell Little Tokyo, until next Saturday (we decided to go again the following week).
Maggie:

we went a second time cuz Darling didn't get to enjoy the wind (his favorite part of Little Tokyo), and Maggie needed to get that Hello Kitty folder~

Errol: WHAT IN THE?!!!
BLAST IT!
IT'S THE TELEMUNDO MAZE!!!!
Maggie: such good smells from those taco/hot dog carts...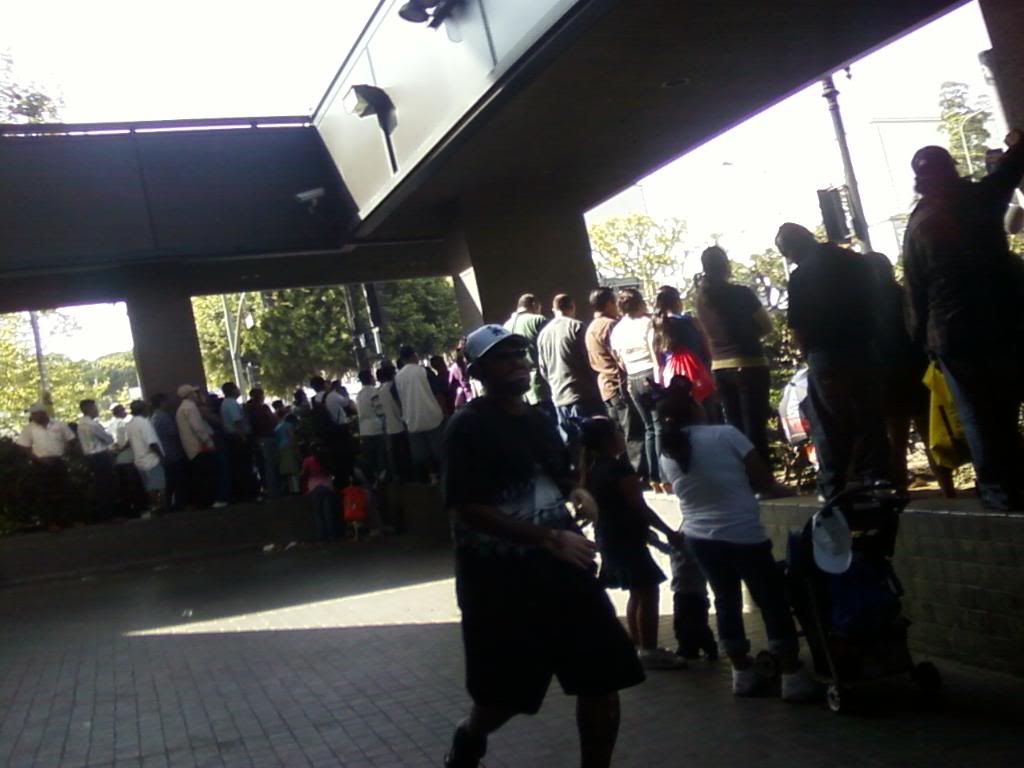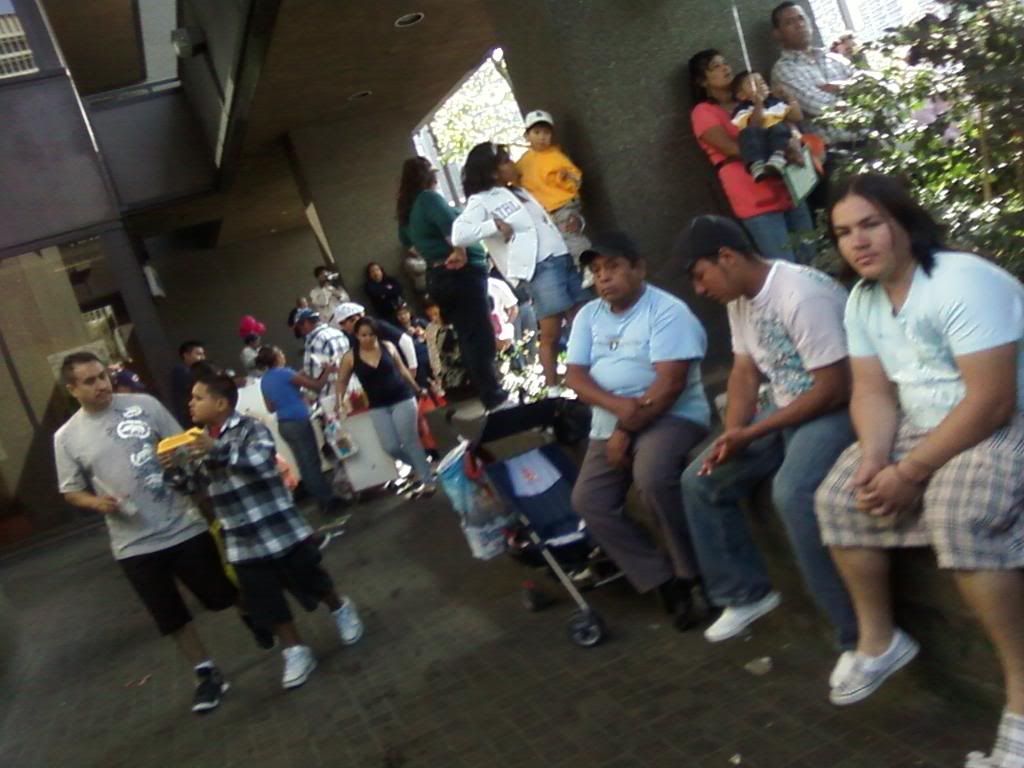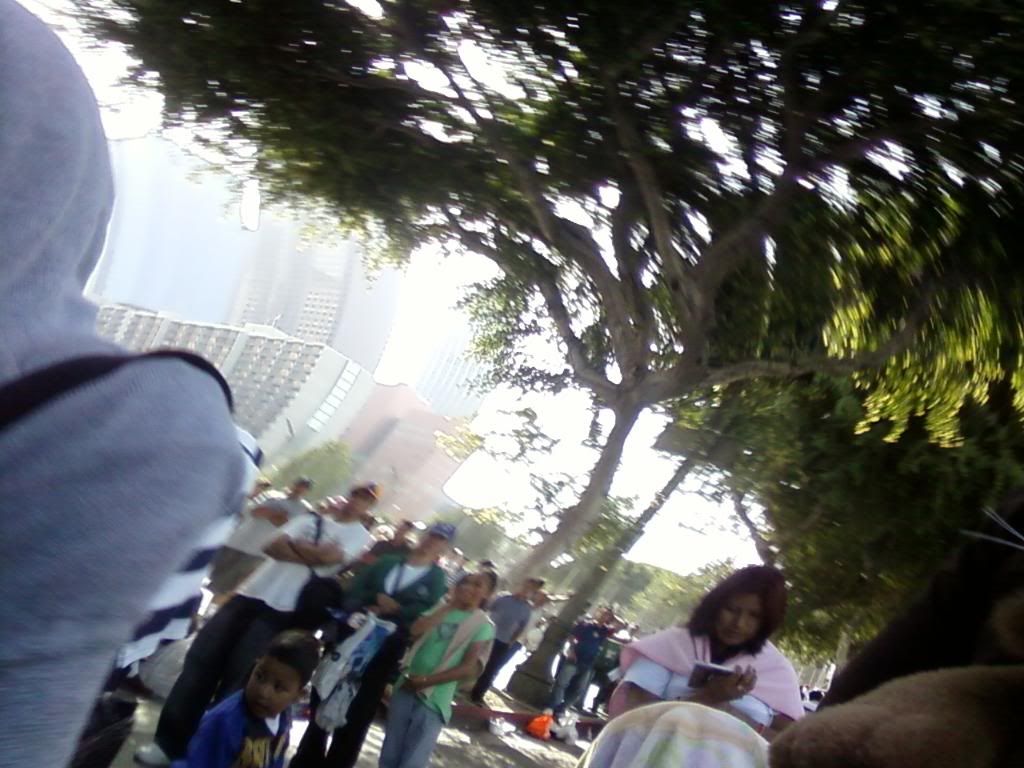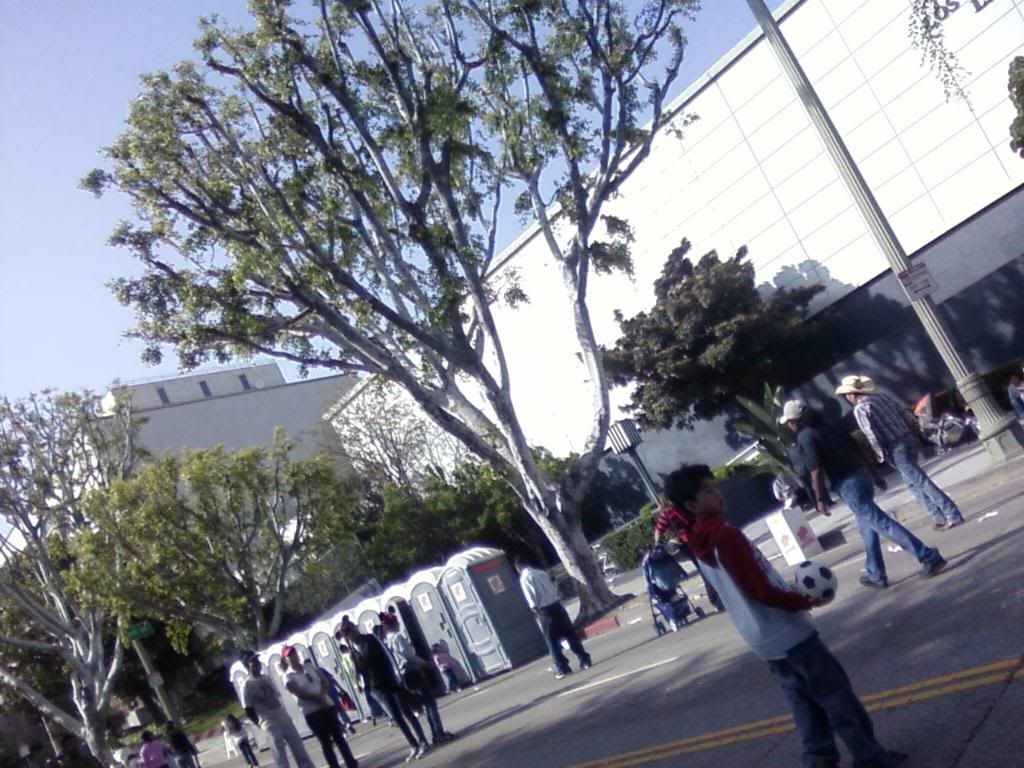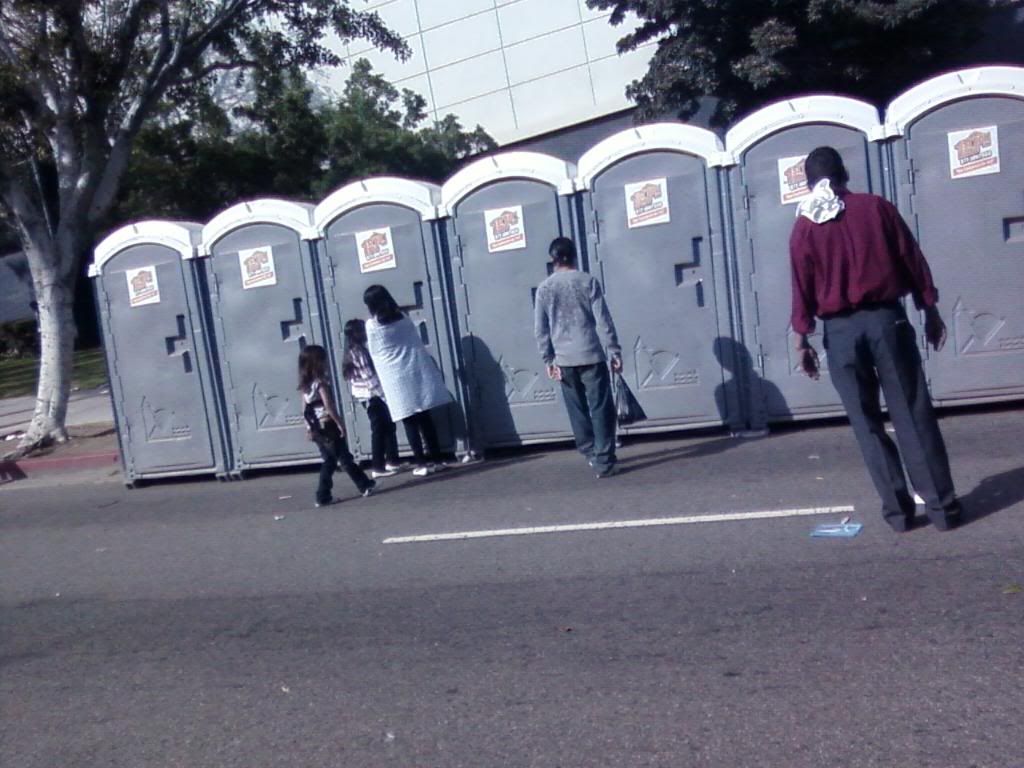 Errol: We made it!!!! That was quite the crazy maze...
Maggie: i lead the way!
Errol: Alright, let's Metro it outta' here!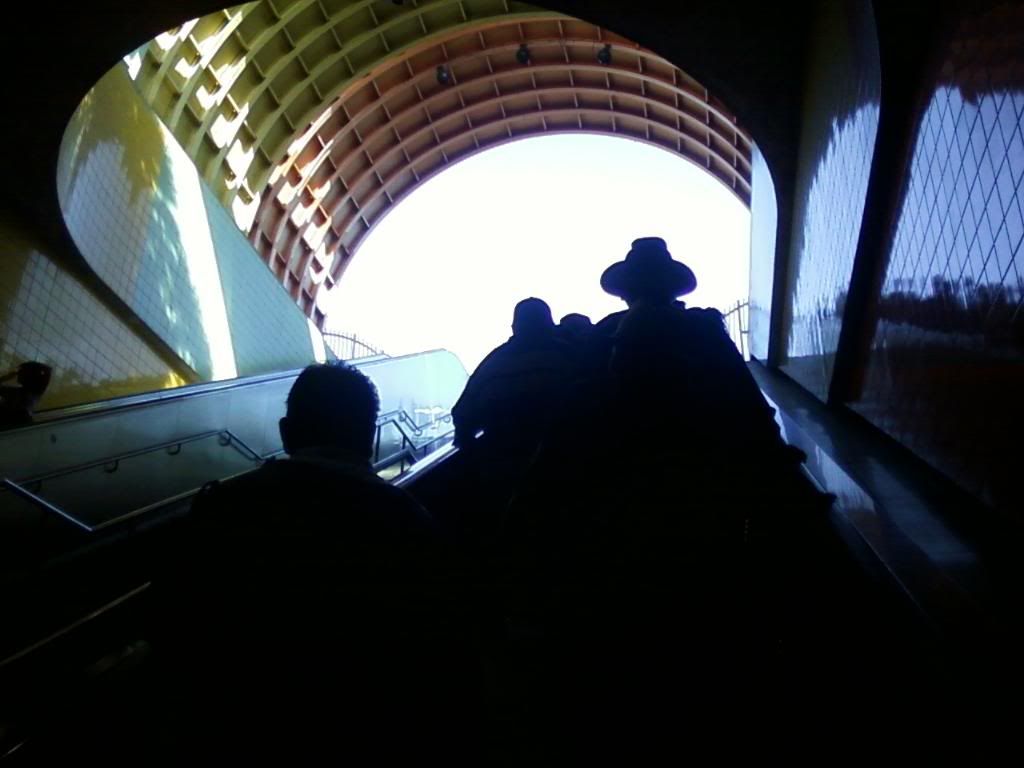 Bye Bye Train~!
A Time Capsule
Errol: Nah, it's just a self-cleaning restroom... Pretty cool, except for the whole
"Wait for a couple minutes for it to clean itself - after each and every single user"
...
Maggie: had to use the restroom more than i realized, was a bit worried cuz our bus had pulled in, and didn't want to miss it cuz Maggie couldn't hold it~
The Bus Home
Errol: Whoah, the first picture I took makes it look like the bus is leaning... like a weird kind of skew. I wonder why that is???
Maggie: cuz it's METRO MAGIC~
Errol: Ah well, time to head home... with a side-trip to a game store to get some DS games.

Maggie: and WalMart~
But first...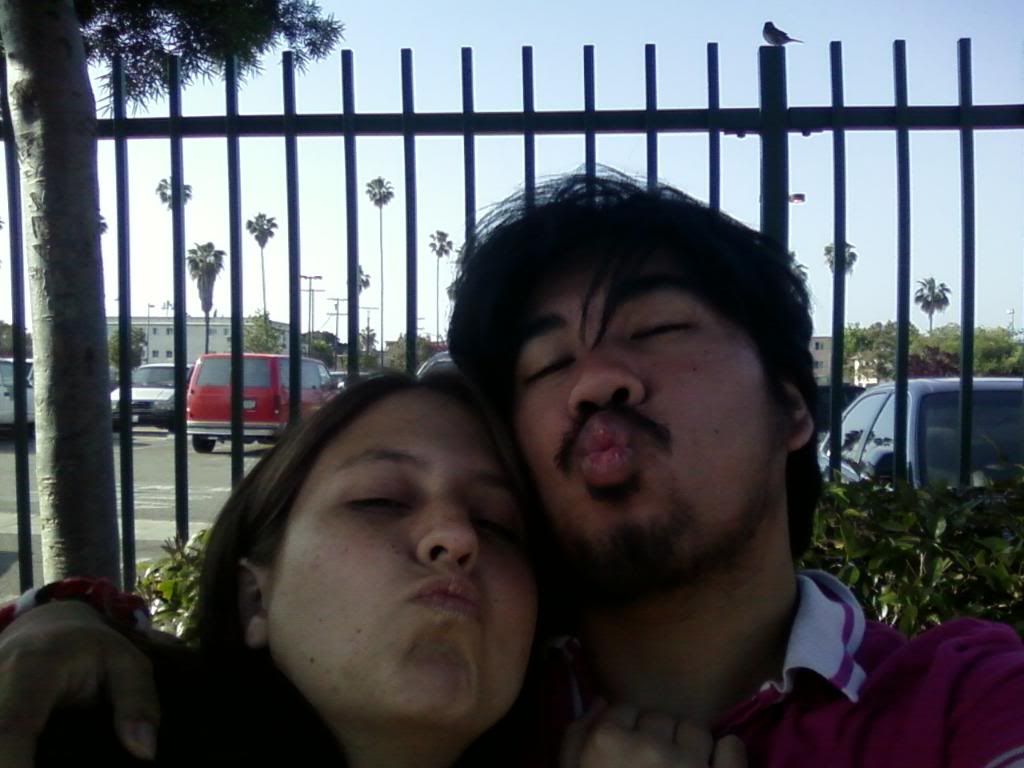 COUPLE PICTURES~!!!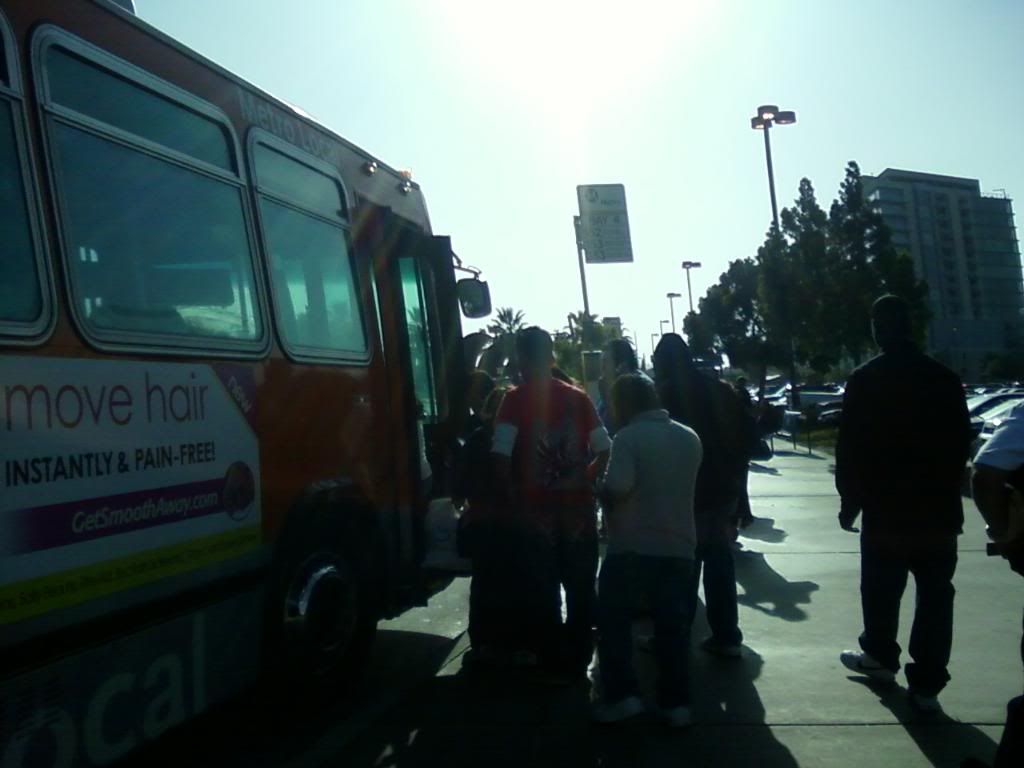 Let's Go~!

SHOPPING!!!
Errol: Ummm... what'd we get again?? Fire Emblem and... Super Robot Taisen, right??
Maggie: and Beautiful Lengths shampoo and conditioner (for me~ want long hair again!) and an XBOX360 points card for the Darling~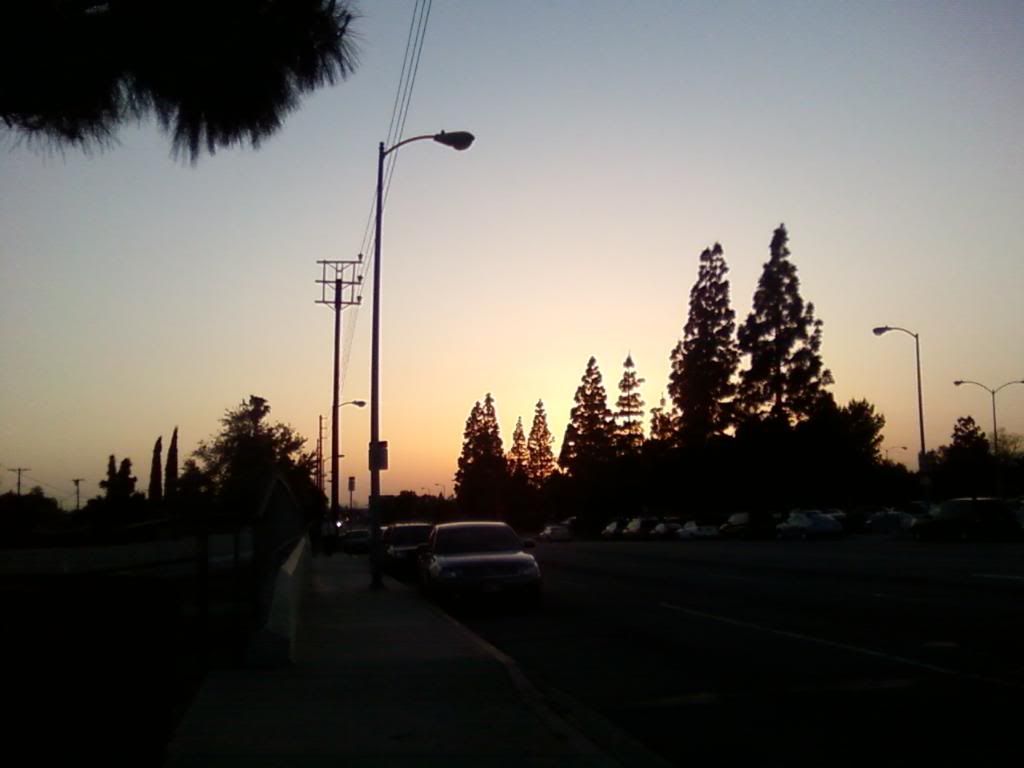 The Road Home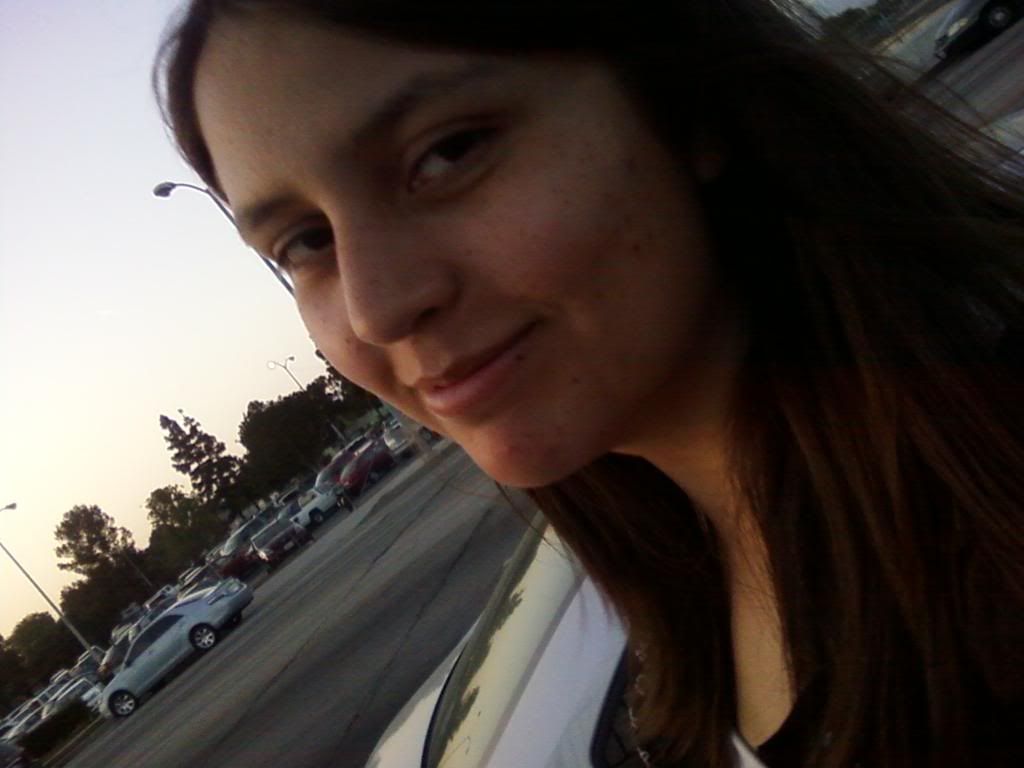 My Home & My Everything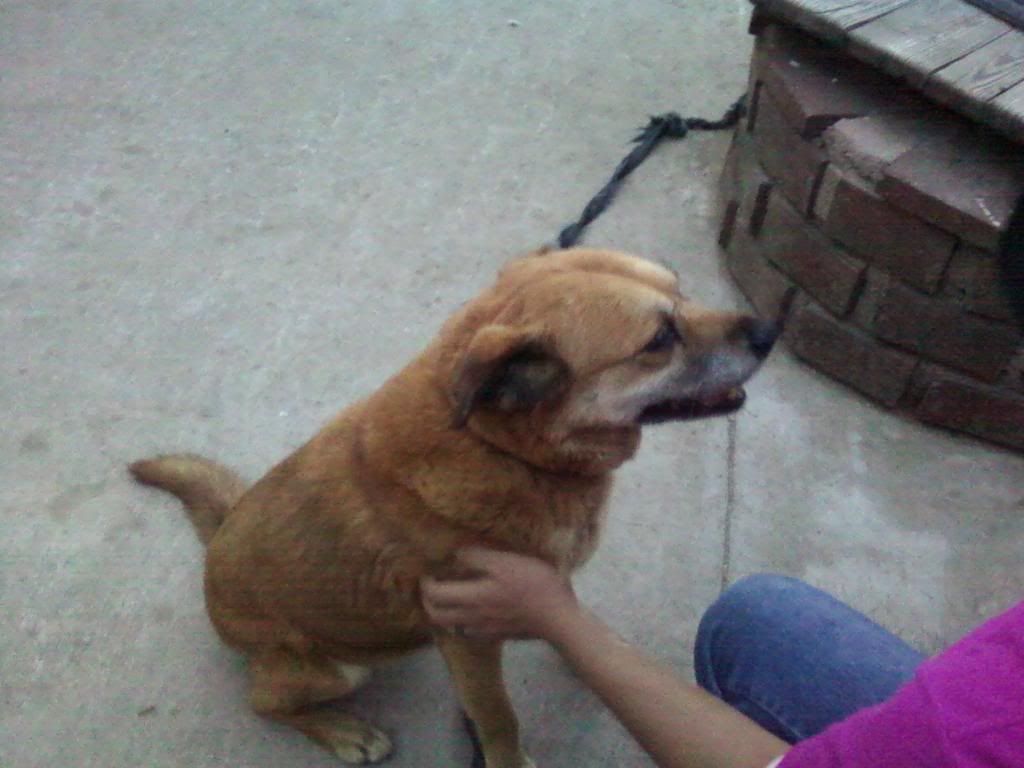 My fuzzy neighbors.
Errol: I don't see these guys as my dogs. I see 'em as my pals and neighbors. I don't expect them to obey me, I expect them to know that I know better in certain situations... I think every dog owner should be the same. Just came by to say hi before Mags and I were left to our lonesome.

Maggie: it is so hard to take a good picture of Noodles (the brown one), and Rufio (the white/gray one) was all fritzy~
Errol: All-in-all, that was a pretty fun Anniversary eh darling?
Maggie:

Errol: Do you think it was worthy of being our 5th Anniversary?
Maggie:

yeah~
Errol: How'd it feel to be mostly in charge for it?
Maggie: kinda good, but still not as good with money as you are!

had to pay my first over draft for it, but that is litterally no thing compared to our wonderful, exciting, cleansing, beautiful day...
Errol: I love you babe, so much. I really do.



Maggie:

i love you too, my Sweet Darling, you make this life worth living~
Errol: Happy Anniversary~!
Maggie: Happy Anniversary~
!
Errol: Forever and More~!
Maggie: AND EVEN LONGER THAN THAT~!
And now a picture of a really bored kid.